100% Determination this International Women's Day
08 Mar 19
When communities experience poverty, women and girls bear the burden greatly. They're often tasked with managing their households' consumption where resources are already quite scarce. This was the case for twelve-year-old Thadolwayo from Zimbabwe, our feature story from this year's Project Compassion.
Thandolwayo outside her home holding a 5 litre water container she uses to collect water.
Photo credit: Richard Wainwright, Caritas Australia

Every morning Thadolwayo would walk seven kilometres through a rocky, mountainous path and risk being attacked by crocodiles to collect water for her grandparents and family… all before school would start. Exhausted from hours fetching and carrying water, her school performance was quite low.

But it doesn't need to be this way.

This International Women's Day, we're celebrating the immense determination of women around the world: young women like Thandolwayo rising up to the challenge of providing water for her family, as well as women generously raising money to bring hope to vulnerable communities this Project Compassion.
Women such as the students from Santa Maria College, Northcote in Victoria who have committed to a Caritas Ks fundraising event by walking laps around a pool. Aside from the school-wide fundraising goal, over 40 individual profiles have been created by students themselves who are dedicated to making the world a better place for everyone.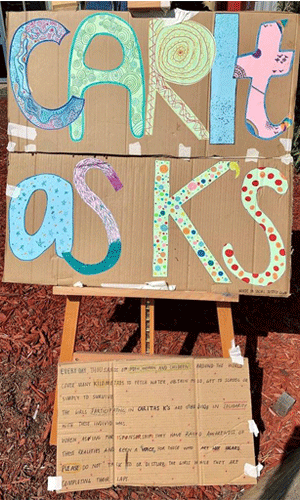 Santa Maria College's Caritas Ks event. 
Photo credit: Twitter, Santa Maria College
There are women like Patrice, who has courageously decided to give her car up for Lent. She is choosing to stand in solidarity with people in Australia and around the world who miss out on opportunities because of their limited mobility.

Through the determination and generosity of women, all our supporters and Caritas Australia, Thandolwayo's life has changed for the better. We worked with her local community to install water pumps to draw water up from the river. Water is now on tap in the village which has brought hope to everyone living there. Best of all, Thandolwayo can now focus on her studies and is determined to become a nurse.

If you would like to be involved in this year's Project Compassion, you can find out more here.