A compelling and moving visit to Bangladesh
02 Feb 18
In October and November, 2017, Caritas Australia's Head of Engagement and Sustainability, David Armstrong and Program Coordinator, Bangladesh and Nepal, Eleanor Trinchera, travelled to Bangladesh to meet with some of our partners and visit projects we support.
This was David's first trip to the South Asian country and he was very moved by the resilience and kindness of the Bangladeshi people. Here is his recount of the visit.
Photo credit: Caritas Australia
Tell us about your visit, where you went and why?
We travelled to Bangladesh from 28th October to 3rd November with three aims. They were:
To participate at the International Partners meeting in Dhaka, discussing community development projects and international funding climate. Caritas Bangladesh is 97% dependent on overseas donors, and due to the global climate this is now under significant pressure.
To facilitate a two-day Resource Mobilisation (RM)  seminar for senior managers and RM designated staff from eight regional offices – designed to help them commence raising support from their own domestic market. Whilst a very poor country, there is an emerging middle class of 15 million people they are starting to engage with.
To visit Caritas projects – both in the city of Dhaka working with street children and drug addicts, and a Sustainable livelihoods project in a rural indigenous community.
We also heard directly about the Rohingya crisis and how Caritas Bangladesh is responding. It was great to speak with James Gomes, Chittagong regional director and Riaz Ahmed, Minister for Department of Disaster Management. Caritas is currently reaching 29,317 families in desperate need with essential food items such as dal, salt, sugar and cooking oil, as well as basic cooking utensils.
I was moved by watching the joy, hope and gratitude in the faces of those we've helped.
This was your first visit to Bangladesh to meet our partners. What inspired you most about the work on the ground?
Eleanor and I visited a rural community (an eight hours drive from Dhaka) in Shreebordi Upazila, Sherpur, Mymensingh Region in northern Bangladesh to see the Sustainable Livelihood program* run by Caritas. It provides health, education and agricultural skills to local women, helping reduce extreme poverty & improve living conditions. Bangladesh has a population of 160 million people with over 43% living in extreme poverty. Eighty percent of the country is situated on the flood plains of the Ganges and other major rivers, and the country is prone to catastrophic natural disasters that displace millions of people.
On arriving at the community, the friendship, welcome and joy the community displayed was a great inspiration. Although living in poverty, they were so grateful for what they had, sharing their community life and meagre food. A refreshing change from the politics of fear, individualism and materialistic culture that besets our modern world.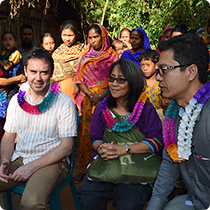 Photo credit: Caritas Australia
In Dhaka, a sprawling, congested concentration of 18 million people, we visited a drop-in centre reaching out to vulnerable children living homeless on the chaotic city streets or in slum areas. Caritas provides much needed nutrition, education, peer support and basic medical care for hundreds of kids. Thinking about my own eight year-old son back Sydney, I was incredibly moved comparing how he would survive in such circumstances.
Did you get a chance to hear any powerful stories?
Families shared that the cost of rice of had more than doubled in recent months to $2.50 per kg, a huge amount when the average income is $1.25 per day. More frequent floods and natural disasters driven by climate change are having a big impact on food stocks and destroying livelihoods. They now they have much less available income to cover for essentials like health and education, that is putting more pressure on their family and community.
Bangladesh is one of the most heavily populated countries on earth. What is the context of which our partners are working. What are some of the challenges?
Christian population is a small minority with just 0.4% of the country. They face more discrimination, political corruption and greater poverty than the majority Muslim population. 
Caritas Bangladesh is experiencing a decline in international donor funding caused by global economic uncertainties. It is now looking to raise funds from the emerging middle class of c. 15 million, a process that Caritas Australia is supporting through our experience of Resource Mobilisation.
Rural poverty is driving migrant workers into the city where they are exploited by manufacturers, such as the garment industry suppling Australian retailers, where they work in oppressive conditions earning low wages. A recent report by Oxfam showed that just 2% from the purchase price goes the worker. That's 40c from a $20 t-shirt. Corporate Social Responsibility is a major focus.
Caritas is highly respected in Bangladesh, with a large amount of public goodwill generated from it being one of the largest providers, irrespective of religion, of education, employment opportunities, welfare programs, micro-finance and disaster response.   
Tell us more about Caritas' work in Bangladesh and how the work is making a difference to those most vulnerable globally?
Caritas' work in Bangladesh is underpinned by the need to provide education, vocational training, micro-finance, social enterprise and employment to communities impacted by poverty. These services give communities hope for a stronger future. The is a compelling feature of Caritas' work around the world.
What do you think about the power of donors to support Caritas Australia to make a difference?
I was moved by watching the joy, hope and gratitude in the faces of those we've helped. It showed me that our contribution, even though modest, is tremendously valuable to those receiving it.
*The food security and livelihood project is being funded through DFAT under ANCP.