Sr Louise McKeogh: Acting for peace and justice to build a world of hope
04 Dec 19
"I think the people of Caritas are very inspiring, as is the work of Caritas and the people who've worked with Caritas for a very long time. Caritas always stays with you, you always stay part of the family" - Sr Louise McKeogh
Sr Louise McKeogh has contributed her love and compassion as Diocesan Director and Social Justice Coordinator for the Parramatta diocese, since 2012. Along this journey, Sr Louise has been guided by a strong sense of service and passion for justice, immersing herself in diverse and engaging projects that have opened her eyes to the ever-present need to disenfranchised communities.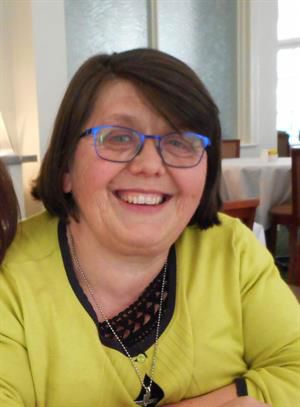 I sat down with Sr Louise to find out more about her background, motivation to become a Diocesan Director and the experience she has enjoyed throughout her ministry.
I grew up in Melbourne and became a teacher firstly, at our PS in Engadine, followed by St Mary's youth drop-in centre. It was an inspiring time working amongst people with different experiences of life.
Sr Louise was naturally drawn to Education and an unwavering commitment to social justice highlighted in her work with disadvantaged indigenous youth.
The complex problems around sustainable communities, employment, creating futures for young people all require collaborative input. We all need to come together to address these universal problems for Indigenous people.
Sr Louise was impressed by the great partnerships that Caritas has and their First Australian's program matched her desire to raise awareness about it throughout the diocese.  In 2012 she became the Diocesan Director and Social Justice Coordinator for the Parramatta diocese, working in partnership with Caritas Australia helping to coordinate resources, planning and action within a diverse network.
I have thoroughly enjoyed building relationships throughout the diocese of Parramatta, with the parishes, schools and agencies I am especially grateful to the students and teachers, who give up their time to animate the Caritas social justice program in schools.
She believes that connecting faith to action through Catholic Social teaching has been a really important responsibility of the role and the growth of social justice education has supported this.
Parramatta is a very vibrant diocese, with generous people really wanting to put their faith into action and that gives energy to the work of Caritas.
I am grateful new social justice groups that have started in the Diocese and the schools have grown in their energy for Caritas and social justice. And, that's happened because of steering groups and networks who are graciously giving up their time.
In 2013, Sr Louise had the opportunity to travel to Lima, Peru for the first Mission Week before World Youth Day was held. In partnership with Caritas Lima, the Parramatta Diocese took 250 young people to visit the projects Caritas Lima was involved in and raise much needed awareness about this work.

***
Caritas Australia extends a warm thanks to Sr Louise, for her commitment to her roles as Diocesan Director and Social Justice Coordinator, with all the very best wishes for the future.

Emily Bradstreet is the Media Officer at Caritas Australia.