An update on the East Africa Food Crisis
22 Apr 18
Through prevention strategies and crisis management, the Caritas network has assisted people across East Africa to survive the East Africa Food Crisis with a sense of hope for the future.
Through your support Caritas has been able to deliver life-saving goods and resources, including basic food supplies, sanitation and hygiene, water, and medical kits to the countries most in need. Here's how.
Photo credit: Caritas Australia
''Caritas and the Church are working with the people to ensure they have food, medicine and clean water'' – Caritas Internationalis Secretary General Michel Roy
A re-cap of the East Africa emergency
Following the East Africa emergency which left up to 20 million people facing starvation last year, Caritas Australia, through the Caritas Internationalis network, is striving to continue to meet the needs of hard-hit countries, including Ethiopia, Kenya, Somalia, South Sudan and Uganda.
Ethiopia
Ethiopia has suffered two years of drought, with continued concern that erratic spring rains could extend the dry season. Caritas Ethiopia aims to supplement its aid and development programmes with long-term solutions to chronic drought by improving access to water, hygiene and sanitation practices, crop and livestock production, as well as soil and water conservation.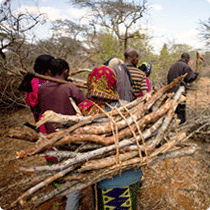 People have fenced off the range land to let it recover and weed out all of the unhelpful plants. Borbor Woreda of Borana zone. Photo credit: Caritas Australia
Somalia
Somalia is facing a worsening situation as its fourth consecutive failed rainy season prolongs the nation's drought. Caritas has had a presence in Somalia since the outbreak of civil war and has been able to save lives, however underfunding means plans to prevent famine from spreading are hindered. Caritas has already been able to reach 160,000 people affected in Somalia and continues to assist those in need.
South Sudan
The humanitarian crisis continues in South Sudan, as 2018 marks the fifth year of conflict in the nation. Food prices have risen dramatically and violence continues to affect civilians. Caritas has successfully been able to reach over 2 million people with food and access to clean water in the nation and is continuing to provide assistance in the region, focusing on emergency food supplies, as well as distributing seeds and tools.
Siblings help each other carry a sack of food distributed by CTP at Billing Payam i Yirol. Photo credit: Caritas Australia
Emergency drivers
Conflict and severe drought continue to act as the primary drivers of food insecurity. The unprecedented scale of the crisis can be directly linked to climate change affecting rain fall in the region, leading to prolonged drought. But your support has gone a long way to assist Caritas in meeting existing needs in the region, as well as planning for the challenges that lay ahead and equipping survivors for a better future.
What your support can do
The global Caritas network continues to provide emergency assistance to the most vulnerable communities through its partner agencies in the region, even after the spotlight has moved off of this emergency.
As a result of your generous donations, Caritas has been able reach those communities affected, and create positive change for many. However, as drought and conflict persist, food security remains a pressing issue for the region, and funds are needed for Caritas Australia to respond to the ongoing needs of the East Africa emergency. Your support can save lives in East Africa.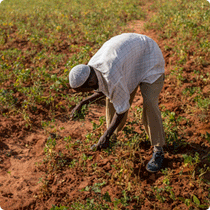 Abey Gedi is 41 years old. Last year he lost his whole crop. Photo credit: Caritas Australia
Written by Caritas Australia research volunteer, Jaime Parker.