Baby's first gift to the world is giving
01 Nov 17
It would be a pretty special story to tell your child someday that before they were born, they were making a positive impact on the lives of those in need around the world.
It's a story that couple Sabna and Rajeev Krishnan will actually get to tell their soon-to-be born baby.
Sabna and some of her guests at the baby shower. Photo: Sabna and Rajeev Krishnan.
The Krishnan family recently held Sabna's baby shower to mark the impending arrival of the couple's second child.
This baby shower was a little different to your average baby shower though, with the parents turning this occasion into a Caritas Australia Women for the World event. The parents asked the guests not to buy any gifts for her and the baby, but instead, donate a small amount of money, with all proceeds going towards Caritas supported programs, helping women in vulnerable communities around the world. Close to $700 was raised at the event.
The couple were strongly motivated to take part in Women for the World. "It is appalling how women all over the world are challenged on a daily basis for basic human rights," the couple says.
This isn't the first time the Krishnan's have taken part in a family-oriented community fundraising event. They have held fundraisers for their son's birthday over the years, supporting a number of different charities along the way.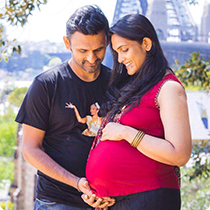 Sabna and Rajeev Krishnan. Photo: Sabna and Rajeev Krishnan.
"We believe and encourage raising awareness, making our son to be empathetic and compassionate", says Sabna and Rajeev.
"The baby shower fundraising was an extension to this thought process we have been practicing."
There's little doubt the family will continue to help others once their new addition arrives.
"We believe change should begin at home and in our own small ways we have tried doing what we can and would love to continue the same," says the Krishnan family.
"It gives [us] immense joy and hope that small steps such as this can really make a difference to many lives and we feel deeply thankful to organisations such as Caritas Australia for materialising such thoughtfulness."
We would like to thank Sabna and Rajeev for their kindness and generosity and wish their family all the best for the future.