Caritas Australia commits funds to support survivors of Cyclone Tembin
28 Dec 17
Cyclone Tembin 17, known locally as Typhoon Vinta, has devastated communities in the southern Philippines, with early reports of at least 230 people dead, and many more missing.

Caritas Australia has responded to the call of Caritas Philippines (NASSA), to assist 3,000 families (approximately 15,000 individuals) by supporting programs to provide emergency food and hygiene packs.

The initial response will support these families over the first two months following the typhoon, across the Dioceses of Dioceses of Iligan, Cagayan de Oro and Tagum and the Prelature of Marawi.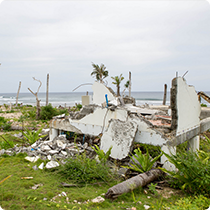 The Cyclone made landfall on Friday December 22nd, and has caused flooding and landslides resulting in lost lives, as well as damage to homes and livelihoods.     
Cyclone Tembin follows the damage done by Tropical Depression Kai-Tak, which left the Philippine Area of Responsibility on December 19th.
Food, water and clothing are still the priority needs of the affected population.  According to the Philippines National Disaster Risk Reduction and Management Council (NDRRMC), a total of 281,902 families were affected as of December 22nd.
Caritas Philippines (NASSA) is coordinating and closely monitoring actions across various Philippines Dioceses, through it's Emergency Operations Center.

The Cyclone has continued onto Vietnam, where Caritas Australia's partners in that country are monitoring the impact.
 You can make a crucial donation to the emergency response through the Asia Emergency Appeal.