Caritas Australia joins ReThink Orphanages network
09 Feb 18
We are proud to announce that Caritas Australia is joining ReThink Orphanages, a cross-sector network that aims to improve the way Australia engages with overseas aid and development, by raising awareness about the unnecessary institutionalisation of children in developing countries.
It is estimated that there are 8 million children worldwide living in residential care, despite 80% of these children having one or both parents living.
Research has demonstrated the harmful impacts of institutionalised care on children's wellbeing and development. However, there has been a proliferation of unnecessary residential care projects overseas, increasing the risk of children being trafficked into orphanages. This has been fuelled by well-meaning donations, short term visits, 'orphanage tourism' and volunteering.
The protection of children, and therefore working to prevent their unnecessary institutionalisation is of utmost concern to us at Caritas Australia. This is also an issue that is recognised by the Australian Council for International Development and in 2017, a parliamentary inquiry into the establishment of a Modern Slavery Act considered banning Australian support for orphanages in places such as Cambodia.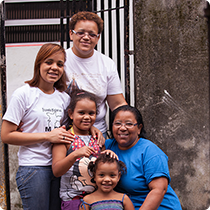 Maristely and her family, who featured in Project Compassion 2014. Photo Erin Johnson.
As the Catholic agency for aid and development in Australia, we are committed to serving people who are vulnerable to extreme poverty and marginalisation. We seek to serve in a holistic way that promotes the dignity of each person and the common good of all people in a community. Therefore we promote family based care as the best option for vulnerable children.
As an Australian Council for International Development (ACFID) member we are also called upon to take measures to ensure we are not, directly or indirectly, contributing towards the unnecessary institutionalisation of children through programming, funding or volunteering activities. We do not currently fund any programs that involve the institutionalised care of children across the 27 countries where we work across Africa, Asia, Latin America, Australia, the Pacific and the Middle East.
The Rethink Orphanages Network is represented by members from international aid and development, philanthropy, education and faith-based communities and is working with external stakeholders from a range of sectors including government, media, and the travel industry. We will support the work of the ReThink Orphanages network through our work with the Australian Catholic Community.
Our current community engagement work in schools and parishes seeks to strengthen the way that Australia engages with aid and development activities and deepen a justice understanding of the root causes of poverty and injustice. We are passionate about supporting Australians to think critically, prayerfully and carefully about the way they support aid and development initiatives.
---
Our current initiatives in the space of aid and development education include:
A free comprehensive resource for teachers and students conducting student immersion trips overseas, 'Just Visiting?' which has been promoted and used in schools across Australia.
Our own travel programs for teachers involve a 30 hour 'Global Justice Course' as accredited professional development. Sometimes, at the end of the course a travel component to a community in which we work is offered. Any teachers that travel to our community development programs overseas are only permitted to do so after completing the 30 hours of coursework that include modules covering aid and development and child protection.
Two of our educators are members on the steering committee for a national ecumenical conference for educators in service learning in 2016 and 2018- 'Transforming Service'. (www.transformingservice.com) The 'Transforming Service' conference seeks to equip the faith based school community with current information and practises around service by school students in a range of contexts including exploring the impact of visiting orphanages overseas.
---
We will continue working to deepen a justice understanding of poverty, aid and development and support the development of education resources for Catholic schools for relevant ReThink Orphanages material as they emerge. We look forward to working with the ReThink Orphanages Network as together we re-imagine a better way to create a more just and fair future for all children.