Celebrating our journey in Brazil and Peru
21 Aug 18
In June, 2018, Caritas Australia's Manager, Africa & Latin America, Siobhan Jordan made the final official visit to our program partners in Brazil and Peru. Here she recalls her heartfelt farewell to a region that has made a lasting impact on her.
In June, 2018, I made the final official visit by Caritas Australia to our partners in Brazil and Peru, partnerships that in some cases have been for 21 years.
It was a bittersweet journey, celebrating the achievements of these long-term partnerships and saying goodbye to our partners – the Movimento de Defesa do Favelado (MDF; the movement for the defence of favela residents) in Brazil and in Peru – Caritas Huacho, Caritas Chosica and the Missionaries of the Sacred Heart of Jesus.
From left to right: Zeza (a staff member from the MDF), Francisco and Donna Elza (participants in the project), and Siobhan in a favela called 9 de Julho. Photo credit: Vincent Deely, MDF
It has been one of the greatest blessings of my time at Caritas Australia to work closely with partners in Brazil and Peru. I remember when I first started in the role of Program Coordinator, Latin America, the then program coordinator, Margaret Fyfe said that the Latin American region would get under my skin, into my blood and she was of course right.
Every time I have been in the region, meeting with our partners and community members in diverse locations such as the high Andes in the Diocese of Huacho to favela residents in the megacity that is Sao Paulo, I have been struck by the work and how it is done with such heart, love and empathy, and how the partners have a deep respect for those that they serve, the communities that they work with. This is very much a vocation, not work.  Every visit I have felt this and have been moved by this.
This is a gift or an asset, in the language of the Asset-Based and Community-driven Development (ABCD or Strengths Based Approach [SBA]), a way of working that our partners in the region have embraced. Of course they have great technical gifts or skills too in areas such as agriculture, health, advocacy and gender which is critical. However, I believe technical skills can always be learnt but I'm not so sure that you can learn to act in the world with heart and humanity.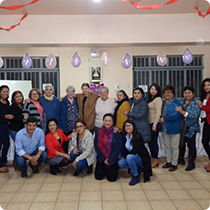 Celebrating with partners in Peru. Photo credit: Missionaries of the Sacred Heart of Jesus
The region is also a rich supply of Catholic Social Teaching in action from favela residents being members of the governance committee in the MDF (subsidiarity and participation); the prevention of family violence across the projects being implemented in Peru (promotion of peace) and numerous examples of stewardship of creation such as Recifavela, the recycling project in the favela of Vila Prudente; the recycling of materials such as glass bottles being used to build stained glass windows in the cultural centre in Vila Prudente and the organisation of recycling and urban gardens in Cerro Candela in Lima, Peru.
When I think of the work in Brazil and Peru, I am reminded of a passage in St Paul's first letter to the Corinthians:
If I have all the eloquence of men or of angels, but speak without love, I am simply a gong booming or a cymbal clashing. If I have the gift of prophecy, understanding all the mysteries there are, and knowing everything, and if I have faith in all of its fullness, to move mountains, but without love, then I am nothing at all. If I give away all I possess, piece by piece, and if I even let them take my body and burn it, but am without love, it will do me no good whatever.
- 1 Corinthians 12:31 – 13:8 (Jerusalem Bible)
Paul goes on to say:
And now these three remain: faith, hope and love; and the greatest of these is love.
In the partners in Latin America I have seen faith and hope and love in action and my heart is richer for sharing the journey with them.
From myself and all at Caritas Australia, to our partners in Peru we say ¡muchísimas gracias! and to the MDF in Brazil, muito obrigada.