Celebrating our Women Humanitarians
19 Aug 19
Eleanor Trinchera is Caritas Australia's Program Coordinator, Bangladesh, Nepal and the Philippines. She has had a colourful career in the 10 years she has worked for Caritas, witnessing many crises faced by the countries she oversees but most importantly, the resilience and determination of the communities she works with.
Today, on World Humanitarian Day, we asked her about her experiences.
Eleanor inspects damage following the Nepal Earthquake in 2015.
Photo credit: Caritas Australia
What made you decide to go into humanitarian work?
My father and grandparents worked in community development during various phases of their lives. As a child, I saw how they worked with people who had less opportunities than we had and what a difference small assistance could make to their lives.
I thought of becoming a doctor so I too could also help people, but I went to the University of the Philippines (UP) in the early 80s and that changed the trajectory of my career. I almost did not graduate, but my parents instilled into my mind that a diploma could take us anywhere, so I completed my pre-med course in the quickest way I can so I could graduate and "serve the people," just like any other UP student during the 70s and 80s would say. 
I grew up during the Marcos administration and saw the horrors of living under Martial Law. So, after university, I joined Media Mindanao News Service, based in Manila to share the news of what was happening in Mindanao then went on to join other NGOs working in Mindanao.
With humanitarian work, I continue to "serve the people," in a different way.
What are some memorable experiences you've had during your career?
I have several memorable experiences.
In February 2009, while working for Act for Peace, I was supposed to visit the Rohingya Camps in Bangladesh and the Border Guards had a mutiny. Within a few hours, I was asked to leave Dhaka due to the threats posed by the mutineers. It took me another nine years before I was finally able to visit the camps.
Humanitarian work can sometimes be scary. There are several monitoring visits where our vehicles would be stopped at checkpoints to provide identification before moving on. Then there are the occasional police escorts from one project area to the next.
The most memorable experience would be being in Nepal during the earthquake on 25 April 2015. There I was, with no emergency experience, thrown straight into emergency work supported by the Humanitarian Team in Sydney. What was amazing was the resilience of the Nepalis and the spirit that swelled among them as everyone just came together to help those affected. Soup kitchens sprouted in street corners, people sharing tents and tarpaulins on open grounds and shop owners offering workers like me, free food to help us get on with our relief work. It was the first time I have seen so many Caritas member organisations in one country. They all came to the assistance of Caritas Nepal, a small organisation with only a few staff and limited resources to handle relief operations.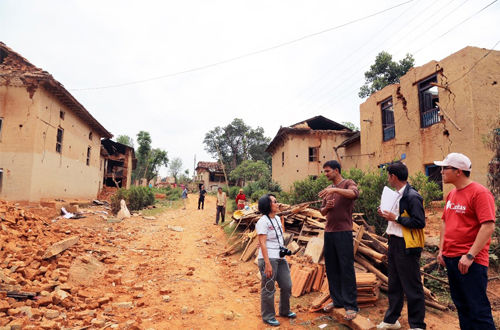 Eleanor speaking to locals following the Nepal Earthquake in 2015. 
Photo credit: Caritas Australia