Celebrating resilience on International Day of People with Disability
03 Dec 21
Globally, more than 1 billion people live with a disability while also experiencing poverty (World Bank).
People living with a disability often face challenges in accessing health care, education and employment. Discrimination and social stigma can also further impact their ability to participate meaningfully in their communities.
On International Day of People with Disability (3rd December), we celebrate the resilience of people who are striving to overcome these barriers to inclusion.
Your generous support means that people living with a disability can participate in education and skills training so that they can forge a brighter future for themselves.
Improving access to education for children with disabilities in Vietnam
In Vietnam, many children who live with a disability miss out on formal education.
13-year-old Luc* was diagnosed with cerebral palsy and epilepsy at birth.
Through our local partner, the Centre for Sustainable Rural Development (SRD), children like Luc can access alternative pathways to education.
SRD helps parents of children with a disability to establish community-based classrooms so that their children can learn to read, write and practice mobility exercises.
Luc's grandfather, Ban, offered to lend their house as a venue to host the classes. Ban volunteers to help run the classes every weekend, along with other parents and grandparents.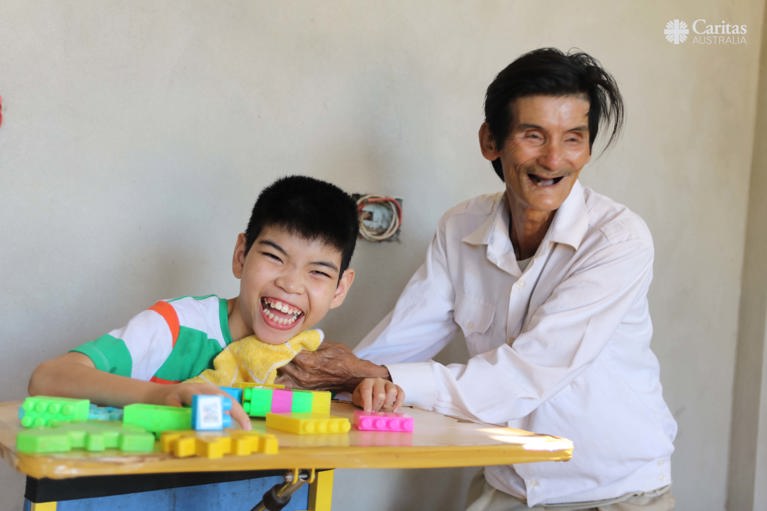 These community-based classrooms offer a practical and welcoming environment for children with disabilities who have never attended school before to learn, play and interact with one another.
Highlights from 2020/2021
129
children, including 100 children with a disability, participated in non-formal education and alternative education pathways
136
people with a disability, including children with a disability, received disability support services
48
people trained in disability awareness and inclusion
Along with your generous support, this program is supported by the Australian Government through the Australian NGO Cooperation Program (ANCP).
*name changed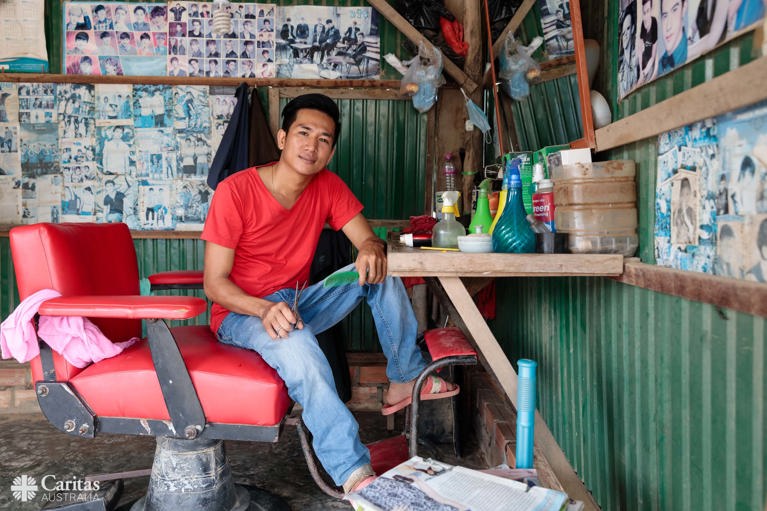 Supporting people who are deaf to find employment in Cambodia
Through our local partner, Maryknoll Cambodia, the Deaf Development Program (DPP) provides sign language education to adults who are deaf, who are among the most marginalised groups in Cambodia. The program also provides livelihood training so that people like Rattanak can earn an income for themselves and their families.
Rattanak is deaf and contracted polio when he was five, which affected his mobility. He had an isolated childhood and couldn't go to school. 
After participating in the Deaf Development Program, Rattanak learnt sign language so that he could communicate with other people who are deaf. He also completed skills training and has now opened a successful barber shop, which helps him earn an income to support his wife and child.
"Now I have a lot of friends. I'm no longer scared or afraid. Because of DDP, I've had the opportunity to develop and to learn and increase my knowledge, now I'm much more confident in everything that I do."
Highlights from 2020/2021
30 students received basic education in sign language, Khmer language, basic mathematics and life skills
14 students successfully graduated - 6 are self-employed and 8 started working in
DPP interpreters provided interpreting services to 99 NGO and government activities, 34 hospital visits and 3 weddings
Learn more about how you can help support greater inclusion for people living with a disability.