DRC – Ebola virus
16 Dec 19
Twenty-two year old, Shukuru Lubung Esther was among 52 young people who recently took part in Ebola virus awareness training in the Democratic Republic of Congo (DRC).
Photo credit: Caritas Australia
DRC is grappling with the world's second largest Ebola epidemic on record, with more than 2204 lives lost and a total of 3313 cases, including 3195 confirmed infections and 118 probable cases have been reported since the outbreak was declared on 1 August 2018.
Young people have been one of the community groups in the DRC resisting Ebola virus measures.
Photo credit: Caritas Australia
Photo credit: Caritas Australia
According to the World Health Organisation (WHO), fear, misconceptions, lack of knowledge, a high fatality rate, along with the invasion by foreigners dressed in what looked like spacesuits have all encouraged community perceptions that hospitals are places of contagion and death.

The workshops which took place in the country's Goma region, aim to empower youth, by giving them clear information on the Ebola Virus Disease, including modes of contamination and prevention measures.
Photo credit: Caritas Australia
Photo credit: Caritas Australia
The training is funded by the Australian government, through the Australian Humanitarian Partnership (AHP) and is implemented by CAFOD (Catholic Agency for Overseas Development), as part of the CAN DO consortium (Church Agencies Network – Disasters Operations). Adventist Development and Relief Agency (ADRA) DRC is also an implementing partner of CAN DO's Ebola response program, involved in community engagement, boosting prevention measures through Water Sanitation Hygiene (WASH) activities and providing water tanks, hygiene kits and education.
Shukuru, who is an apprentice car mechanic, says more people who have doubts about the Ebola virus disease should be encouraged to undertake this workshop.
"Before coming to this training, I knew that Ebola was a contagious disease," Shukuru says. "But then people were brought to the hospital, even though they didn't seem sick, and they were injected with water and afterwards died."
In reality, Ebola patients were being given a saline drip to hydrate them – but many people, like Shukuru, misunderstood the disease.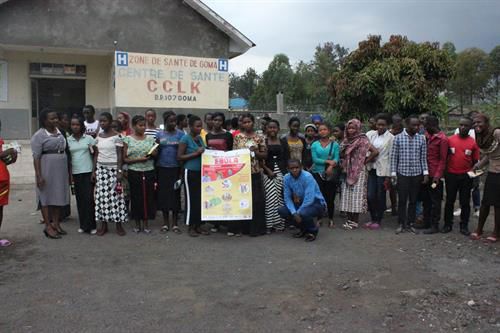 Photo credit: Caritas Australia
Nineteen year old education student, Alliance Amani, says that she didn't even know that Ebola existed before the training.
"I believed that patients were given medicine in hospitals to make them bleed," Alliance says.

"From this training, I gained a good knowledge and information about Ebola. I will also inform and educate other young people to be informed and to avoid the spread of this disease," Shukuru says.
Photo credit: Caritas Australia
Young people who received this training are now committed and determined to fulfil their obligations to share the training and spread the word, by teaching other young people in their region.