Earthquake hits Sulawesi, Indonesia
29 Sep 18
An earthquake with a magnitude of 7.7 struck Northeast of Donggala, Central Sulawesi on the afternoon of 28th September 2018.  Caritas Australia and our partners are monitoring the impact of the earthquake.
Initial reports confirm that buildings have collapsed and that there is considerable panic among some of the population. Roads north of Palu have been damaged.
A tsunami wave has reportedly hit Palu City, Central Sulawesi, in the aftermath of the earthquake.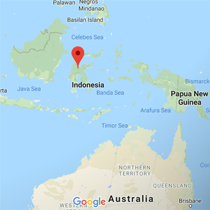 Our partner Catholic Relief Services (CRS) has confirmed no staff were affected by the earthquake. CRS staff are in the country, monitoring the situation closely and communicating with partners.
"The images coming out of Palu are horrifying and bring back memories of the devastation caused by the region's 2004 earthquake and tsunami. One of the lessons we learned from that disaster is that it will take time to learn the full scope of the destruction," said Yenni Suryani, CRS' country manager in Indonesia. "The government is to be commended for their immediate response and the work they are doing to get information out quickly. Knowing that time is of the essence, our partners are racing to overcome extreme logistical challenges to get to the scene as fast as possible."
Caritas Australia's Humanitarian and Asia staff are assessing the impact of the earthquake and tsunami. Our staff are liaising with Karina Indonesia (Caritas Indonesia) and Catholic Relief Services to gain further information.
Caritas Australia would like to express our solidarity with the people of Indonesia at this time.
Caritas Australia's Asia Emergency Appeal has recently supported responses to a number of emergencies including floods in India and Bangladesh and the Rohingya refugee crisis in Bangladesh. For more details, visit our Asia Emergency Appeal page.