First Australians lead the way
21 Jan 18
In 2003 Western Desert Nganampa Walytja Palyantjaku Tjutaku Aboriginal Corporation (WDNWPT), also known as the Purple House, was established by Walpiri and Pintupi people from the Western Desert region to support people with chronic diseases to stay on country.
Since 2003 the Purple House has grown to support remote dialysis in 15 communities as well as a 'home away from home' Aboriginal owned clinic in Alice Springs.
The wellbeing of Aboriginal and Torres Strait Islander peoples is closely related to their connection to community, culture and their traditional lands. For people suffering from long-term conditions like Chronic Kidney Disease (CKD), travelling to faraway town centres for frequent dialysis treatment creates disconnection, stress and isolation.
Patient Patrick Tjungarryi and Purple House manager Sarah Brown. Photo: Sarah Brown, Purple House
This is a story of Aboriginal Australians having a problem and working on their own solutions with howling success!
The meaning of the WDNWPT is 'Making all our families well,' and here's some of what Sarah Brown, Purple House CEO, had to say about how this is being achieved:
"The original idea was to have dialysis out on Kintore and give people time in country but now it's more about providing culturally appropriate support we're consumer led and we're challenging big institutions to look at the ways they provide services for people who are going to spend their lives on dialysis by modelling a different way that has proven clinical outcomes and contributes significantly to people's wellbeing, by contributing to their survival rates.
We are allowing individuals to be at home and make their own wise decisions about their communities and also giving their family members and their wider communities some hope for the future.
Dialysis should not be about being whisked away and told you can never be allowed to go home!
This is a story of Aboriginal Australians having a problem and working on their own solutions with howling success!"
Caritas Australia and Purple House
Since 2012 Caritas Australia has partnered with Purple House through the 'Wellbeing Project', a social enterprise based in Alice Springs where patients work with staff to create bush balms. These products are provided to patients free of charge and the profits from the business arm are invested back into wellbeing activities. Since 2014/15 the income generated by the Wellbeing Project has increased by roughly 160% with funds used to support dialysis patients receiving remote care.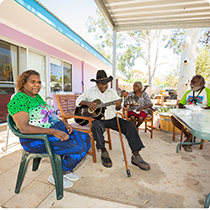 Daniel Brumby playing guitar outside the Purple House with dialysis patients Nankamarra, Topsy Farmer and Toby Farmer. Photo credit: Caritas Australia
Nankamarra's healing
Nankamarra lives in Kintore and receives dialysis in Kintore and Alice Springs. She was previously featured in Project Compassion 2014. Here is an update on Nankamarra, from Sarah Brown:
"People who are on dialysis are much loved community members who have a lot of knowledge about their culture and their country.
Nankamarra was highlighted as a case study some years ago and she's still around. Having dialysis out on bush meant that she could be there for her parents funerals and was able to participate in 'sorry business,' (traditional Indigenous mourning rites)."
---
This story appears in Caritas News Summer 2017/18.