Gaining confidence and raising her voice
19 Oct 17
10 years after the end of Papua New Guinea's Civil War, the path to recovery for Bougainville depends, to a great extent, on the wellbeing of its youth.
For Bougainville's young people today, whose childhoods were tainted by the civil war, support and encouragement is a crucial means of healing from their nation's traumatic past.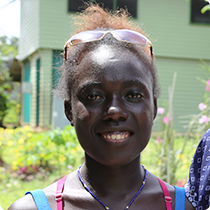 By equipping youth with sustainable sources of income and training them in leadership skills, Caritas Australia, with support from the Australian Government's Department of Foreign Affairs and Trade, is empowering the young people of Bougainville to fully participate in the their nation's future.
When Caritas Australia first met Lillianne she was a shy 21-year-old. Now, through the work of the Caritas Australia supported Bougainville Youth Initiative (BYI), she is raising her voice to become a strong advocate for her community's development and progress.
"After attending the Bougainville Youth Initiative's financial literacy training, I prepared a similar workshop and brought all the youth leaders in my parish together to train them. I don't want our young people dependent; they must be independent," Lillianne says.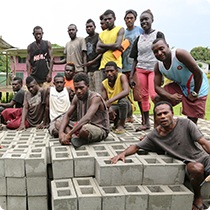 The common culture in Bougainville and PNG is that men take the lead and women often sit back and listen. But, since the training, women are now thinking, 'I can speak… I can take a major role'.
Preparing for success
The group meet regularly to work on their leadership approach and plan how they will assist parish youth groups. Lilianne has now been appointed as the Vice President of the Bougainville Catholic Youth Association. Now as the Acting Vice President of PNG's Central Deanery, she mentors and leads the way for other young women to follow in her footsteps.
This story featured in Caritas News Spring 2017.