Caritas Global Village generates buzz at ACYF
14 Dec 17
The 2017 Australian Catholic Youth Festival theme was 'Open new horizons for spreading joy', and the connection Caritas Australia made with young people at the event showed this to be true.
Relevant, vibrant and engaging activities saw thousands visit the Caritas Global Village, and the word around both the Dome and the Festival at Sydney Olympic Park was how amazing the space was.
A buzz and excitement surrounded the village and saw thousands of visitors and hundreds of return visitors engage with the village.
Archbishop Fisher with a young person and the Project Compassion box. Photo: Caritas Australia
Overheard at the Village
"Young people should care because Caritas is different: it promotes development of communities so they can work on their own futures and be empowered to make change themselves and to build upon what they've already got. Everyone in the world has worth and has something." -Holly Roberts, South Australian Caritas committee member and volunteer.
"To just see the joy in people's eyes when you're able to explain things to them and see the cogs turning in their mind, thinking 'I can go out and make a difference with the knowledge that I've gained here'." The hashtag #wearecaritas is a message of unity and solidarity." -Lachlan Brannan, South Australian Caritas committee member and volunteer.
"I just had my photo taken with the man-sized Project Compassion box…Give Caritas your full support and get involved in their great works!" -Archbishop Anthony Fisher, Archbishop of Sydney
"I am so excited to go home and start using these resources to plan for next year!" -Teacher, Tasmania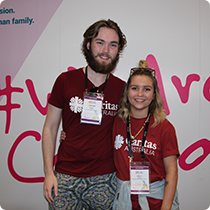 Volunteers Lachlan Brannan and Holly Roberts. Photo: Caritas Australia
Highlights
Young people and clergy alike queued up for the opportunity to immerse themselves in the day to day to lives of Janaki and Rattanak, who are featured in Project Compassion 2018. Young people's stepping inside of Janaki's workshop constituted a powerful, direct encounter with the vulnerable with whom Caritas works and the positive feedback reflected this.
Kahoot quizzes based on social justice and Caritas programs were really popular, and staff offered many opportunities for people to play every hour. The number of youth who swarmed to the television when it was announced we were starting the next quiz was amazing to watch.
Water challenges were varied and powerful: Some young people chose to take up the burden of a 20 litre water container, carrying it around the village in solidarity with those who must walk for hours to reach water and others learnt to operate a tippy-tap.
Catholic Social Teaching Jenga was another highlight, with some youth returning each day to play and engage with staff. The Jenga circle was a refuge and a meeting place for many who decided that the Global Village was where they wanted to base themselves.
The Yarning circle saw Indigenous elders and Caritas partners, Uncle Tom Powell and Uncle Richard Campbell speak powerfully with young people about the inter-generational trauma of their experience as well as the successes of First Australian healing programs which Caritas supports.
The youth journal was coveted by many, with thousands being handed out to those interested in finding out how to engage with Caritas after the festival. Many commented on this as it was seen as a quality product, environmentally conscious with recycled paper, and not merely a throw away gimmick.
A First Australians Guided Reflection, produced with our First Australian partners and Mumbulla Creative, was an innovative and though-provoking way of connecting young people to our First Australians programs
Post-festival actions
Young people are encouraged to take some of the actions that were available at the festival - head to our new Youth hub to learn more. You can also sign up to our new Youth Newsletter to keep across our latest news and activities.