How is Typhoon Mangkhut affecting people in the Philippines?
18 Sep 18
In the immediate aftermath of the devastating Typhoon Mangkhut, NASSA (Caritas Philippines) has shared these two stories to show how people have been affected by the damage.
Emerita
Emerita. Photo credit: Caritas Australia
Emerita, 31, a farmer from Caoayan, Ilocos Sur, laments at how Typhoon Mangkhut damaged her rice fields. She said that before the typhoon, they were expecting to at least harvest 6 sacks of rice from less than a hectare land. This time, she's not sure if they can have even a sack of rice.
"The saddest part is that the land is not ours. Every time we harvest, we need to give one sack to our land owner as payment for the use of the land. What are we going to give them now?" Emerita said she and her husband need to earn extra to sustain these coming months.
"We appeal for your mercy. Help us restore our livelihoods," she pleads during our assessment activity in her community.
Yolanda
Yolanda, 40, resident of Bantaway, San Vicente, Ilocos Sur, stands in front of her makeshift house just beside the provincial road.
"We have just re-arranged our house after Typhoon Mangkhut totally it toppled down. Re-arrange because we don't really have anything to build one. These are all from scraps also, just like the old one that we had," Yolanda tells us during our assessment activity in her community.
Yolanda, her husband and 4 children have been staying in the makeshift house for 4 years now. "We are one of the informal settlers in our barangay. The adjoining lot is for sale, but we do not have money to buy the land. So we make do with what we have."
Yolanda's family is one of the 60 families severely affected by Typhoon Mangkhut in the Philippines.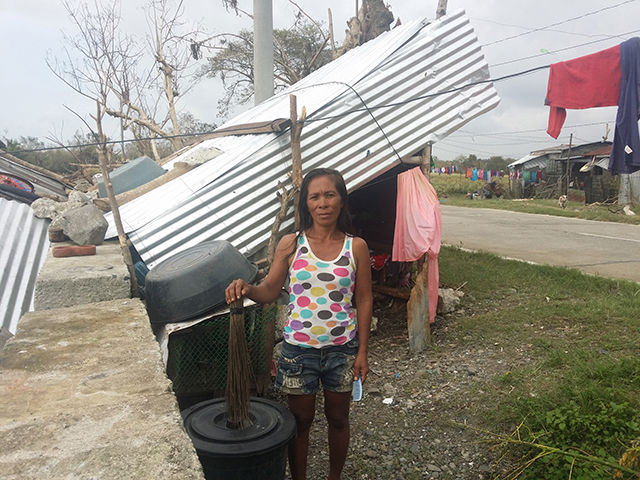 Yolanda. Photo credit: Caritas Australia
You can help
Australians who wish to support the people of the Philippines at this time can do so by donating to our Asia Emergency Appeal.