Kirsty and Richard cycle for Caritas K's for Compassion
24 Apr 23
Kirsty Robertson, CEO of Caritas Australia and Richard Landels, Advancement Director, cycled from Cairns and Townsville as part of Caritas K's for Compassion. 
Kirsty and Richard had the opportunity to meet with local schools and parish communities in Far North Queensland from April 17-23 and share with them stories of how Caritas Australia and our partners are working to support communities around the world.
Day 6 update
From Kirsty:
Today we finished up our ride from Cairns to Townsville with a touching mass in the Cathedral here in Townsville where Bishop Harris and the congregation offered us their prayers and support.
Cycling such a long way gives you a lot of time to think. 
To think about our two colleagues from Caritas Ethiopia who were last week shot and killed. Our Caritas colleagues in Ukraine, Afghanistan and across the Middle East who work amidst admist war.
To think with gratitude on the lives of the millions of people across the world who were helped by Caritas Australia last year. Including Laxmi a young girl from Nepal who featured in this year's Project Compassion story. And Including Mali a woman we met in Ethiopia last year, a mum struggling to provide food and water for her children in the drought.
We reflected with gratitude on Australian supporters. Average people like you and me in churches and schools across Australia who join together and say- this is not the world that God intended and I want to create a more just world. 
The ride is one thing but as always it's the people along the way that have made this journey special. It's such a blessing to make new friends and meet new people and have the opportunity to spread the word of the Good News story that is Caritas Australia.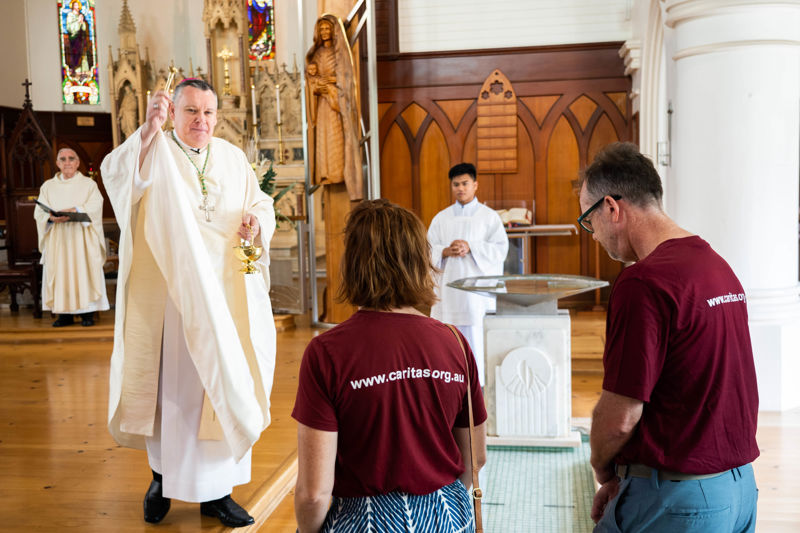 Day 5 update
From Richard:
To beat the heat of the day we got on our way before sunrise and departed from Innisfail. Before breakfast and just after sunrise we reached Mission Beach for an early morning coffee. We then set off for Tully and the golden Gumboot. It's just under 8m high which was water level of the 1950 flood. This was supposed to be the wettest town in QLD but not a single drop of rain fell and in fact the sun beat down on us all day.
Onto Ingham where we visited Our Lady of Lourdes primary school and spoke with the students there from grades 4,5 and 6. They asked some excellent questions including "how do we make the world better?". We went to the Parish to meet the staff and then celebrated Mass with Father Shilbin who then joined us for dinner with Sister Nina. More adventures to look forward to tomorrow.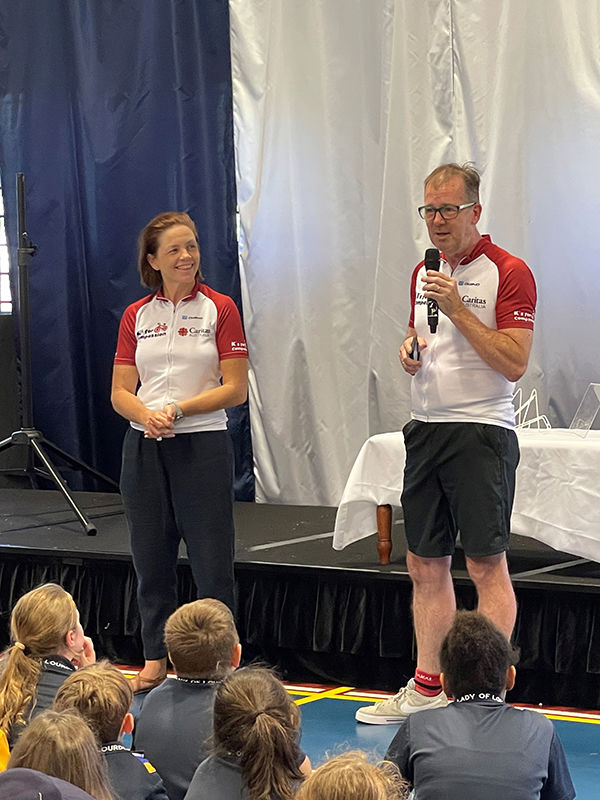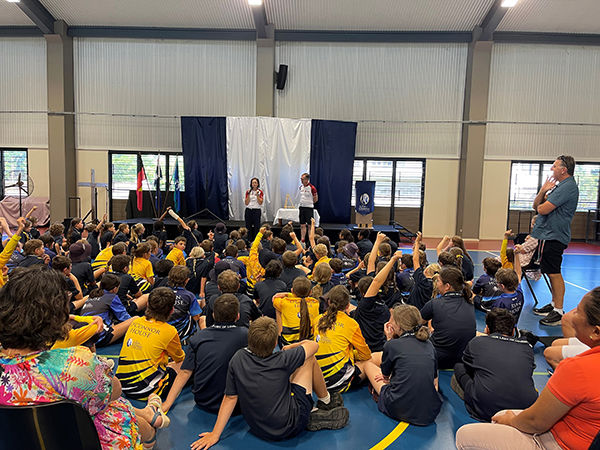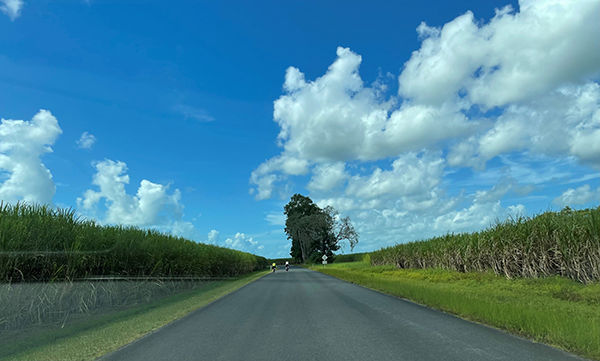 Day 4 update
From Richard:
Today we rode into Innisfail, it was late afternoon and we were soaking wet but we had a big smile on our faces. It was a fabulous afternoon of riding through banana fields and past Eubenangee swap national park. We rode over many swollen rivers with danger signs warning us of crocodiles however the only wildlife we saw were dead snakes, rats and kangaroos. A lovely afternoon surprise was a Ulysses butterfly that landed on the car.
Babinda is home to a famous cream bun bakery (which of course we needed to visit!). It is also home to St Ritas Catholic School, home to 50 students. We were warmly welcomed by the teachers and students and spent a lovely hour as their guests. We were surprised with the insightful reflections of the school community as we spoke about Caritas Australia's work in both Ethiopia and Nepal.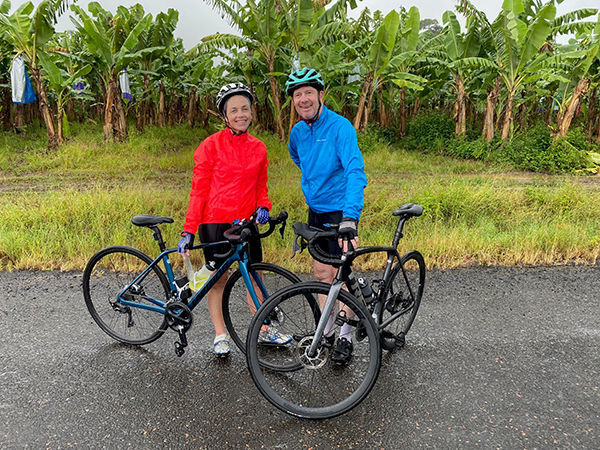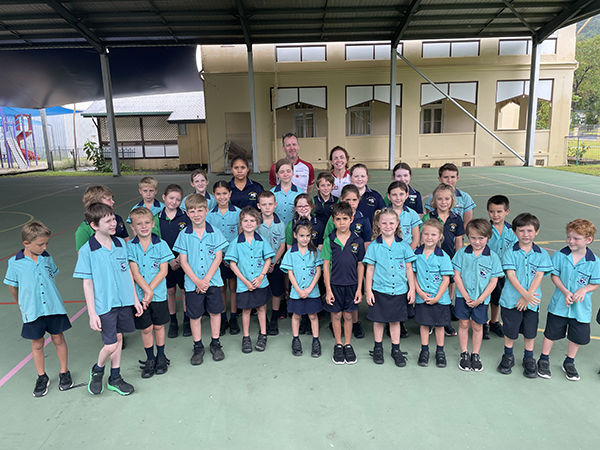 Day 2 update
From Richard:
We started at daybreak this morning to try to keep ahead of the traffic and the heat. Little did we know that it was going to be 20 degrees and raining for most of the day. 
We headed off towards Atherton and then double backed in the car to visit St Thomas of Villanova Primary School. A vibrant and very commitment group of social justice leaders listened intently as we shared with them the stories of Project Compassion  and our recent experiences in Ethiopia and India. They proudly told us they have tripled their Project Compassion income this year (here's to hoping everyone else's Project Compassion boxes tell the same story). We then headed off to Ravenshoe and it was a day of battling with the elements including torrential rain and fog as we travelled on the in Queensland.
We were warmly welcomed at St Therese's Primary School where 51 students (and that's the whole school) have been supporting Project Compassion this year, for the first time in fours years.
Today was hard work and the weather was challenging, and it made me reflect on the sacrifices Caritas workers make throughout the world, especially our two colleagues from Ethiopia who lost their lives last week.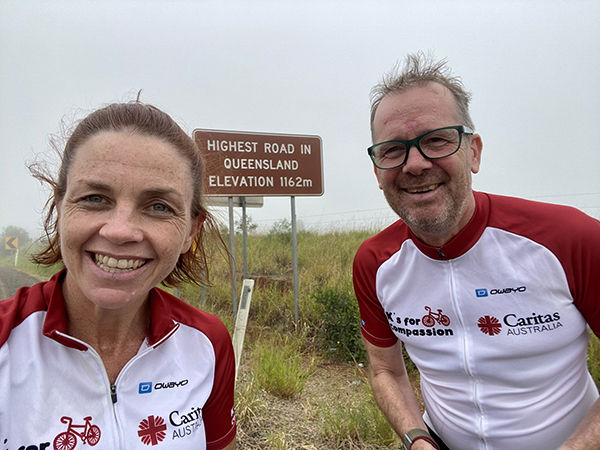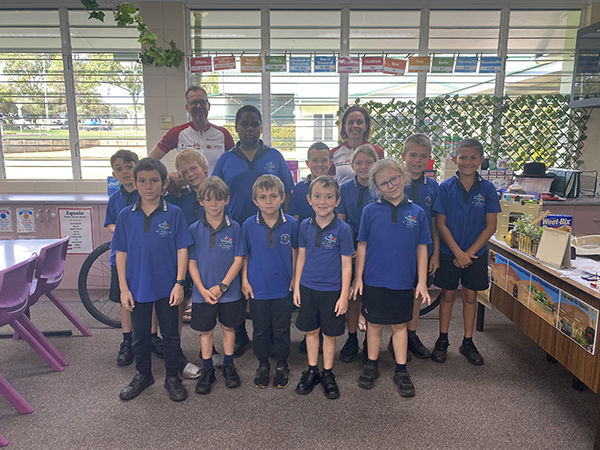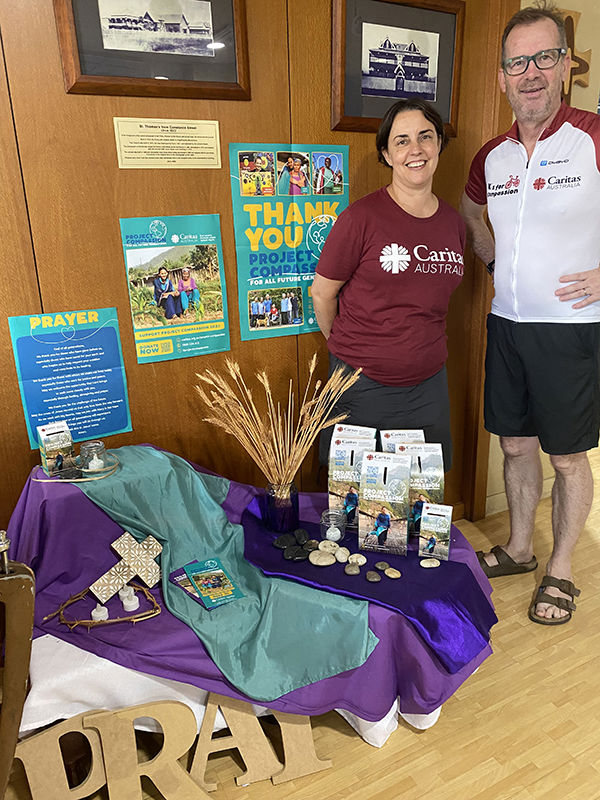 Day 1 Update
Update from Kirsty:
I always consider working at Caritas Australia to be a blessing but when I get out into parishes and communities across Australia that privilege is far more apparent. Today Richard, Alicia and I we were warmly welcomed by Father Jim and the congregation at St Monica's Church in Cairns. As today was the first day of our ride as part of "Caritas Ks for compassion" our bikes were sprinkled with holy water and Father Jim had even prepared a short poem for us as we set out on our journey.
The ride was hard and hilly made especially tough by 37 degree heat. We were grateful to break it up with a swim in a local waterhole (after double checking with locals that there were no crocodiles!).
A blessing from Fr Jim Carty before sending off Kirsty and Richard:
We Pray:
Lord God Father Son and Holy Spirit bless you Kirsty and Richard as they begin their challenge today
May the wind be behind you and the clouds cover the sun and do keep well hydrated as you pedal one by one.
When the going tests your limits, like nearly every day, recite a few Hail Mary's to help you on your way.
May the Christ-like message of Caritas, you hope to share with many, be heard by toddlers, students, parents including dear old grannie.
And so with the water blessed at Easter, I bless you both and pray that you will travel safely each day and arrive healthy and wiser from the lessons learned and stories told.