Nepal Earthquake: Stories of hope
21 May 18
Three years on from the Nepal Earthquake, we share stories of hope from people who were affected by the disaster.
Chankhey's story
For Chankhey Tamang, his Caritas constructed home has created a sense of hope and renewed stability for the future after the havoc wreaked by the earthquake.
Chankhey, aged 48, is a resident of Bulung and with a family of six to look after, was scared and worried by the huge challenge of building a new house, but today his faith has paid off.
Chankhey, who also has a disability said; "I can't sleep on my back because I have a hunch-back, I can't carry anything on my back, and I can't walk long distances."
"Some people of other caste groups look down upon me because of my disability, and because I am just an ethnic person. But I was among the first ones in the village to reconstruct shelter, and I am extremely thankful to Caritas Nepal for all the support they provided me to accomplish this task."
"Now there is no fear of the wind taking away our roof because we have a proper roof. I am really glad that I constructed this earthquake resistant house on timely manner."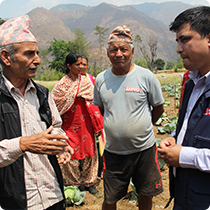 Caritas staff on a recent monitoring visit to Nepal. Photo credit: Caritas Nepal
Swostika's story
Swostika Khatri is a leader in of Nepal's new generation of female masons. As one of 25 trainees involved in a Caritas Nepal masonry workshop, she is earning an income and re-building her country.
"I have put the whole community into awe. People are surprised that women can work as a mason to build walls and structures," Swostika says.
"I am very glad to have received the mason training. I am an independent woman now and do not have to ask for money from my husband. You'll be surprised to know that I have become healthier after I started working as a mason!" said Swostika.
Caritas Nepal's team has helped thousands of rural households through construction workshops, like those Swostika attended.
"We are now well equipped with knowledge and skills to utilise locally available resources like stones and wood to construct earthquake resistant structures and we will always practice this even after Caritas Nepal is gone," she added.
 Read our update on the Caritas response to the Nepal Earthquake, three years on