Over 82 million people displaced this World Day of Migrants and Refugees
24 Sep 21
On World Day of Migrants and Refugees on 26 September, we were called on to remember those displaced by conflict and persecution around the world - and to consider how we can offer practical support to our neighbours around the world.
Over 82 million people worldwide have been forced to flee their homes, as a result of persecution, conflict, violence and human rights violations, according to the United Nations. Among them are nearly 26.4 million refugees, and around half are under the age of 18.
In his message to mark the 107th commemoration of the day, Pope Francis writes about the theme: "Towards an Ever Wider 'We'". He encourages people to "embrace everyone, to build communion in diversity, to unify differences without imposing a depersonalised uniformity….for the sake of renewing the human family, building together a future of justice and peace, and ensuring that no one is left behind."
"We are all in the same boat and called to work together so that there will be no more walls that separate us, no longer others, but only a single 'we', encompassing all of humanity."
Insight into the refugee experience.
In a recent opinion piece in the Eureka Street magazine, Caritas Australia Board Director, and the Bishop of the Diocese of Parramatta, Most Rev. Vincent Long, spoke about his own refugee experiences, in light of recent developments in Afghanistan. 
"I was one of the boat people who escaped from South Vietnam. The escape happened after South Vietnam had fallen to the Vietnamese communist forces in 1975, and my world descended into total chaos" Bishop Long says.
"My siblings and I grew up in a world of poverty, isolation and constant fear of what might happen to us or our loved ones. Finally, my parents, who had escaped by boat themselves from North Vietnam in 1954, encouraged me and my siblings to escape."
Bishop Long says he feels compelled to speak out in support of refugees worldwide.
"My Catholic faith compels me to try to address these kinds of injustices, ones that remind me of what I and my loved ones experienced in Vietnam. I believe in the universal and inclusive love of God, a love that seeks to embrace all people, most especially those at the periphery, who are experiencing poverty and injustice," he says.
"We need to support Afghans. And we need to live up to our international obligations, and also live up to our status as a prosperous society, one with a courageous past that welcomed previous waves of refugees en masse from Vietnam and China."  
"Australia has changed for the better with each successive wave of new arrivals, because people like me have brought our determination and drive for a better future."
Our support for displaced people worldwide
With your generous support, we're working with our local partner organisations on the ground around the world, to support displaced people and refugees, facing the challenges of upheaval, poverty, disrupted education, lives and livelihoods.
We're working with people like Jamila in Cox's Bazar refugee camp in Bangladesh, the largest refugee camp in the world, to improve living conditions and community safety.
Twenty-two-year-old, Jamila, is a Rohingya woman, a single mother, who fled the armed conflict in Myanmar's Rakhine State to save herself, her elderly mother and eight-month-old baby daughter. Having been abandoned by her husband, she faced life in the camp on her own.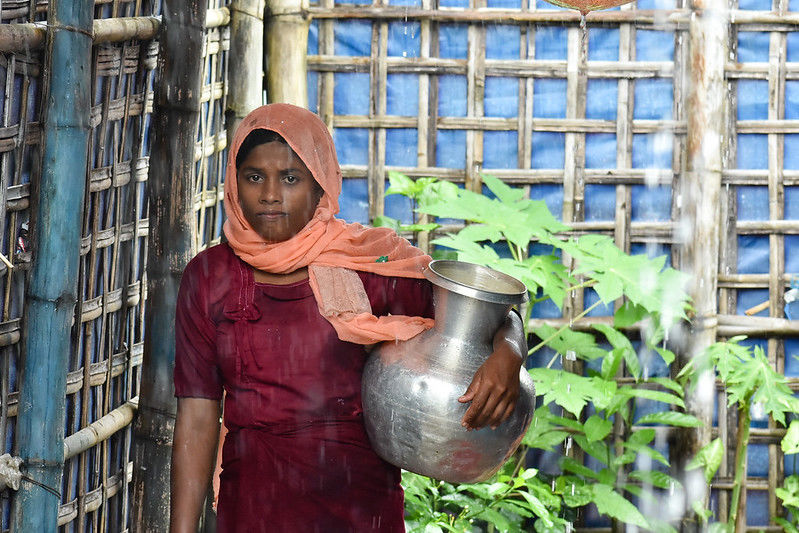 Hundreds of thousands of Rohingya people, have crossed into Bangladesh since August 2017, fleeing the conflict in Rakhine state in Myanmar. Over 1.3 million people remain in the densely populated camps, in desperate need of humanitarian assistance.
With your support, through Caritas Bangladesh, Jamila was able to access emergency food and shelter. Then, as her stay in the camp stretched on, Jamila joined the Women Friendly Spaces project where she received counselling and emotional support. She learnt about health and hygiene, participated in a parenting program and learnt sewing skills, to help her to earn an income and to build a sense of community around her.
Recent research by Caritas Australia and local partner, Caritas Bangladesh, has found that community-based programs in the camps have had a significant positive impact on the wellbeing of women and children.
"I know more people than before, I can depend on them. I can see many women like me who are benefitting from this program. They are coping on their own, able to decide independently, gaining stability mentally and ultimately being able to resume a normal life, like me."
Despite these challenges, Rohingya refugees in the camp are active in their communities, working with Caritas Bangladesh, helping to keep their families and community safe during the pandemic.  With your generous support, community members have been trained to inspect and organise the cleaning of washrooms, wells and toilets in their block, and ensure that their neighbours maintain COVID-19 prevention strategies.   
Along with your generous support, this program is supported by the Australian Government, through the Australian Humanitarian Partnership (AHP).
World Day of Migrant and Refugees resources courtesy of Australian Catholic Migrant and Refugee Office (ACMRO)