Project Compassion launches across Australia
01 Mar 22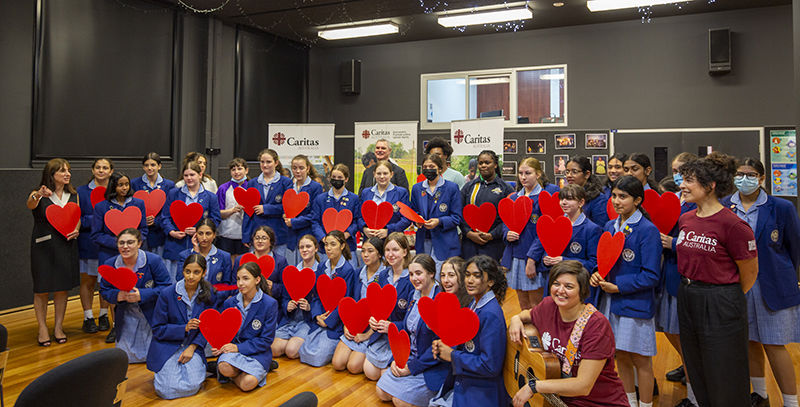 This week marks the launch of Project Compassion, our annual fundraising campaign that spans across the six weeks of Lent every year. Project Compassion brings together thousands of Australian schools, parishes and supporters to raise funds for people living in some of the most vulnerable communities across the world.
The theme of this year's Project Compassion is 'For All Future Generations', a reminder that the good that we do today extends far beyond the present, and impacts the lives of vulnerable communities for generations to come.
The Melbourne launch of Project Compassion was held at Mercy College in Coburg. Melbourne. Archbishop Peter Comensoli attended, along with musician Gen Bryant and student leaders from Mercy College. Students from a selection of schools across Victoria also joined via Zoom.
"Given that compassion and caring for those in need are the heart of our school's core values, it is such a privilege to be able to participate in and host this wonderful event," said Lila McInerney, Principal at Mercy College.
"We are committed to upholding dignity, and hope for humanity and all of God's creation through our social justice initiatives. I hope that our contribution and participation in Project Compassion 2022 has a deep and powerful impact on the communities that Caritas Australia serves."
During the event, Lulu Mitshabu, our Africa Programs Coordinator, shared the story of Anatericia, a 12-year-old girl from Mozambique who had to take on adult responsibilities after her father died. Through the generosity of supporters like you, Anatercia was able to receive school supplies and now dreams of becoming a nurse to help other people in her community.
Over the six weeks of Lent, parishes and schools throughout Australia will be hosting fundraisers to support people like Anatercia to forge a path out of poverty.
Parishioners at St John's, Numurkah got into the spirit of Project Compassion by flipping pancakes for a good cause.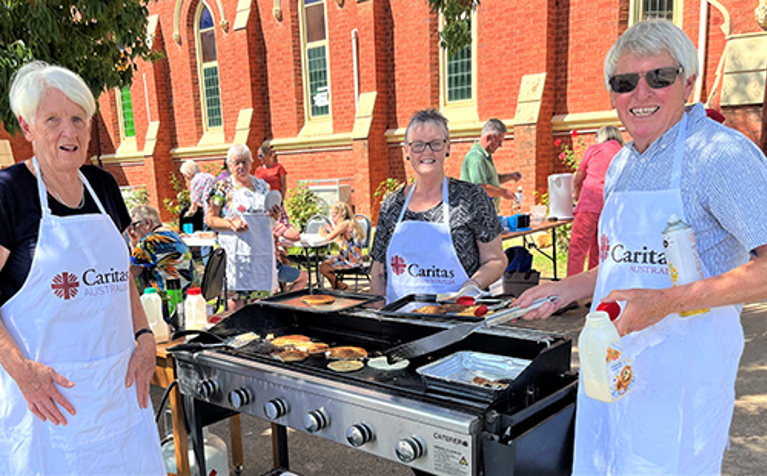 Meanwhile, in Western Australia, University of Notre Dame students hosted a stall at the university's Open Day to help raise awareness and funds for Project Compassion.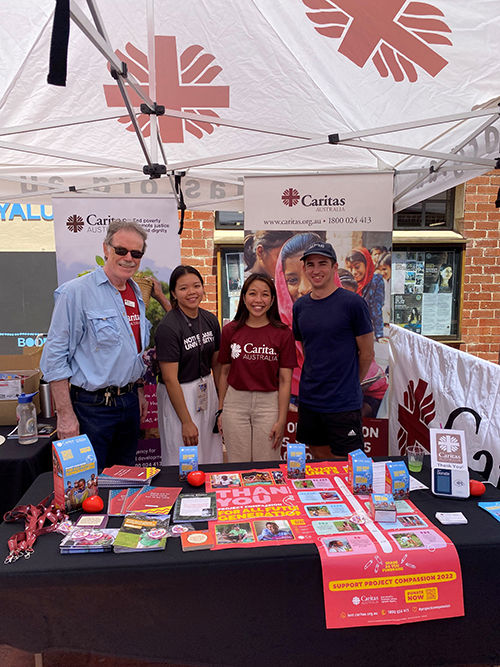 Join a Caritas Conversation and meet our staff and partners  
This Lent, we are offering the opportunity for supporters, schools and parishes to meet our staff and partners from both overseas and here in Australia.    
Caritas Conversations are one-hour, interactive sessions held over Zoom where you can learn more about the impact of your generous support. You will meet directly with the people who work in the field in partnership with vulnerable communities to create lasting change.           
These sessions are an opportunity for you to dig deeper into the inspiring stories from this year's Project Compassion, and learn how your generosity is making a difference.   
Caritas Conversations are ideal for parish social justice groups, youth groups as well as Caritas Australia supporters who are interested in learning more about our work in Mozambique, the Democratic Republic of the Congo, India and the Solomon Islands. There will also be sessions dedicated to exploring issues affecting First Australians.   
Places are limited. Click the button below to register.