Project Compassion update: Doney doing well in Malawi
06 Jul 17
Quiet and humble, Doney has turned her life and around – along with the fortunes of her remote village in Malawi, Southern Africa, even as most of her country is suffering chronic food shortages.
We first met Doney in 2016, when she appeared in a Project Compassion feature story.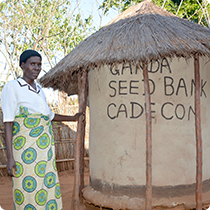 Gone are the days of malnutrition that plagued their lives, when Doney and her family sometimes went months without having enough food to eat. Now, the community is reaping the benefits of a bumper harvest.
"We used to harvest 2 bags per 0.5 acre of land but now after doing ridge re- alignment and other watershed management activities, we are harvesting 15 to 16 bags of 50 kilograms," says Doney.
This extraordinary success story was possible with the help of Caritas Australia and the local Caritas - CADECOM (the Catholic Development Commission in Malawi). They helped Doney's community to harness their natural resources and train in new farming techniques to produce plentiful crops, helping their food stores to last for 12 months.
Malawi has perennial food security problems and recently, a third of its 19 million people were not able to access sufficient food. However, areas where Caritas has been promoting conservation farming have now been described as food secure - whereas nearby areas were not.
"People in my village are now having three meals per day. This has indeed great impact on our health status and that of children, thereby reducing malnutrition. Irrigation has also played a vital role in ensuring that people have enough food as people are able to plant three times a year thereby supplementing with rain-fed agriculture."
CADECOM also helped the community to install a borehole, so Doney and her family now have access to clean water which has led to better health
With great pride I thank God because our village has also been transformed in such a way that people have reading and writing skills.
"There is a tremendous reduction of cases of waterborne diseases in my village due to hygiene interventions and safe drinking water," says Doney. "Recently, a month elapsed without our community having cases of waterborne diseases.
Most people Caritas helps are very poor, earning less than $1 a day but the creation of village Savings and Loans schemes help them to get by and for some, to earn a little interest. They can then start up small businesses.
"One change in my village which occurred due to the program is the increased household income levels amongst villagers," says Doney.
This has led to the ability to pay for school fees and invest further in farming.
Doney herself has always had a passion for education and received training as an Adult Literacy Facilitator through the CADECOM program - and is now teaching adults in her village.
"With great pride I thank God because our village has also been transformed in such a way that people have reading and writing skills," says Doney.
"This has helped people to confidently represent the village in developmental meetings, adopting agricultural technologies with no difficulties as these require a certain level of literacy skills and they're able to manage their household income due to numerical skills attained."
Doney firmly believes that "literacy skills are the foundation for success". 
She is happy that by sharing her story as part of Project Compassion, she may be able to encourage others to reduce their own poverty and advance their lives. She likes being a role model
Doney says her story is proof that donor funds were put to the intended purposes.
"To those who supported Project Compassion last year, I would like to say thank you for their kind support. Our life has changed for better because of these generous people. I should encourage them to continue supporting vulnerable people in poor countries so that more people are helped to end poverty."