Protecting mothers, strengthening communities
19 Jun 17
Nine years ago, Altabanu, a Bangladeshi woman, was living in a leaky bamboo hut and barely able to provide for herself or her children.
Now, she's the elected council member of her village, a trusted community health worker, who has delivered 247 babies and the proud mother of a university graduate.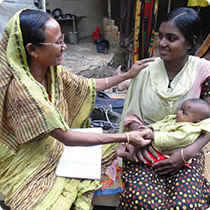 Connecting with her community
Altabanu comes from Rotonpur, a village in the northern Bangladeshi district of Dinajpur, which is prone to flash flooding and where, like many parts of Bangladesh, antenatal care is limited because of a lack of trained medical workers. Through the support of Caritas Australia, she undertook antenatal training, as part of the Safe Motherhood Program (SMP), to become a midwife and to provide in-house support for pregnant women.
Since 2008, Caritas Australia has been working in partnership with Caritas Bangladesh to deliver the Safe Motherhood program, designed to provide healthcare and health education to women and children throughout Bangladesh.
Your generous support has enabled the training of rural midwives to provide quality care for women in rural areas, to reduce maternal and infant mortality and improve the entire families' participation in the care of mother and child.
Pregnancy support is an ongoing challenge in Bangladesh. Reluctance to seek medical help for newborns means that only 20 per cent of children receive postnatal care from a trained provider during their first week of life. Malnutrition alone accounts for the death of over 10 percent of Bangladeshi newborns.
Whether they are able to give money or not, I will work for pregnant women.
Inititally, Altabanu's neighbours were a little reluctant to receive care from her. In Bangladesh, poor women like Altabanu are often overlooked by members of their own communities.
But her persistence paid off, particularly among the women of the village who began to note her skill and helpfulness.
"Altabanu saved me and my child," says local woman, Hemonto Rani Das.
"Altabanu gave my wife and me good advice," says another neighbour, Sombhu Robi Das.
A proud mother Salma with her newborn daughter Maya. Maya received support through the Safe Motherhood Program. Photo: Majed Chowdury.
A community leader
Altabanu's work has done more than save countless lives. She has also become a leader in her village. In 2016, she decided to run as a candidate in the local Union Council elections, backed by a strong group of female supporters.
One day while campaigning, she received news that a woman had gone into labour. Altabanu found that the baby was in breech and safely delivered it. During the campaign period she delivered seven babies.
When Election Day came, local women encouraged their husbands to vote for Altabanu. She won by a landslide, racking up around 600 votes more than her nearest rival.
Stability and prosperity
In Bangladesh, where over 30% of the population live below the poverty line, Caritas Australia, and its partner Caritas Bangladesh, have run the Safe Motherhood Program since 2008.
The program trains rural midwives to provide quality antenatal, delivery and postnatal care for women in rural areas, with the aim of reducing the rate of maternal and infant mortality and increasing the extended families' participation in maternal and infant care.
Altabanu and her family have changed their lives as a result of her participation in the program.
"My middle son, Ruhul Amin, has now completed a MA degree. He is seeking a good job that will improve our situation even more," Altabanu says.
"With the help of the money I earn from my midwifery work, we can now all eat different kinds of food."
"I can even feed others, like an ill woman, Onjoli Maiso, who now lives in my home".
It's not her own comfort which matters most to Altabanu, but a deep commitment to service, and to upholding the dignity of local women.
"Whether they are able to give money or not, I will work for pregnant women," Altabanu says.
This program is supported by the Australian government through the Australian NGO Cooperation Program (ANCP).
This story featured in Caritas News Winter 2017.