Rural villages in India rebuilding from COVID-19
25 Oct 21
A new report released by the United Nations Development Programme (UNDP) has revealed disadvantaged tribal and caste communities make up more than 80 per cent of people living in poverty. 
The 2021 Global Multidimensional Poverty Index found that the vast majority of people living in poverty in India are from Scheduled Caste (also known as Dalits or untouchables) and Scheduled Tribe communities (indigenous people outside the Caste System).  
Your generosity is helping support marginalised groups in India during COVID-19
Through our partner, Caritas India, we are supporting rural villages in Chhattisgarh and Jharkhand, the two states with the highest poverty rates in India, and also home to a large number of Scheduled Tribe and Scheduled Caste communities.  
Your generosity played a vital role in supporting Caritas India's COVID-19 Emergency Response, which provided urgent medical aid to remote communities in Chhattisgarh, Jharkhand, Bihar and Karnataka during the devastating COVID-19 second wave that swept across much of India. 
Health treatment and support
provided to 37,856 patients
Food and nutrition support
given to 1,815 COVID-19 patients
Medical support
provided for 2,508 COVID-19 patients 
Rural villages in India were hit particularly hard by the second wave, with many communities lacking the resources and medical supplies to cope with the rapidly spreading virus. 
Many workers lost their income due to the lockdown. In a country where many people rely on informal labour and have little job security, the impacts of the pandemic have significantly increased the risks of food insecurity and poverty.  
With your generous support, Caritas India is helping vulnerable communities to develop sustainable livelihoods, improve access to essential health care services, strengthen knowledge of social rights and entitlements and increase participation in village meetings.  
2476 households received food kits 
137 village level frontline workers received health kits 
7234 farmers have increased 50% their crop production through diversification and other adaptive measures. 
Sakun's story
Sakun belongs to the Gond tribal community, a group that has historically experienced discrimination and disadvantage. She contracted polio as a child, making it difficult for her to walk.  
With the support of generous people like you, Sakun was able to participate in skills training. With her new skills, she set up a kiosk to sell food and earn an income. She also received a special, custom-made, hand-pedaled tricycle so that she can become more independent.  
With her newfound skills, Sakun felt empowered to participate in local village meetings and to advocate for her rights. She has become more resilient, confident and independent.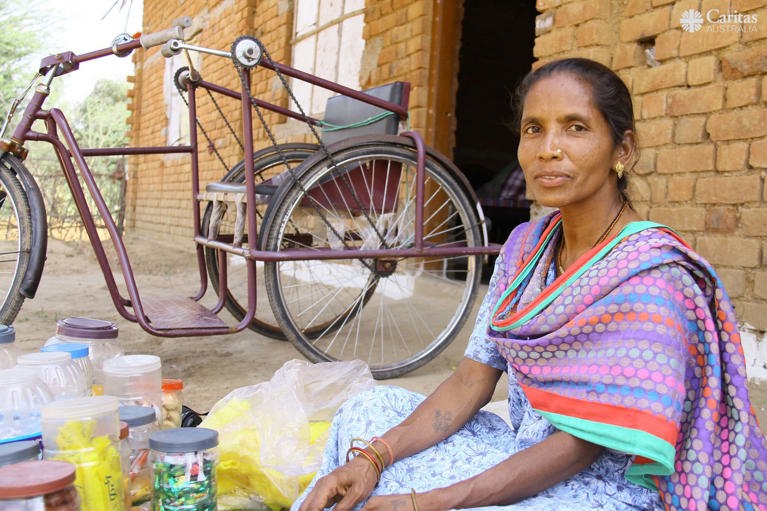 "I can move around my village, visit community members and talk to them, I feel happy and my social life and network has improved. It has also given me the opportunity to keep in contact with other people living with disabilities which enabled me to express solidarity with them. Today I am given due respect in the village and community."
Donate now to the Asia Regional Appeal to provide much-needed assistance and support to vulnerable communities during emergencies, such as the COVID-19 pandemic.  
Along with your generous support, this program is supported by the Australian Government through the Australian NGO Cooperation Program (ANCP).