San Isidro Care Center students to attend World Youth Day in Lisbon
03 Jul 23
Four program participants from the San Isidro Care Center - a rural training center that caters to hearing-impaired students in the Solomon Islands, have been selected to attend World Youth Day (WYD) 2023 in Lisbon, Portugal.  
WYD is a worldwide encounter with the Pope celebrated every three years. It is a great opportunity for young people to celebrate their faith and personally experience the universality of the Catholic Church.  
Amongst the four students selected to attend is Emmanuel.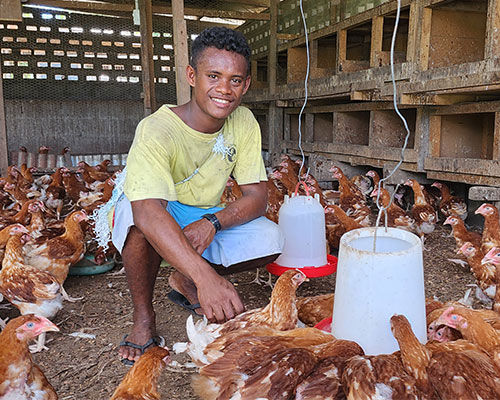 Emmanuel, 23, grew up in the Malaita province with his father - a teacher and mechanic, his mother and his two siblings who study in Honiara.  
With your generous support, and with the help of our partner, San Isidro Care Center, Emmanuel has been able to overcome the barriers of living with a hearing impairment and has learned the necessary skills, including sign language, to gain greater employment opportunities.  
As the head boy of the school, he was selected by his very own classmates to attend WYD and he is very excited to see the world and meet new people. 
"I don't know much about the outside world but I'm excited to fly and to taste lots of lollies!" Emmanuel signed cheerfully. 
When asked to describe the Solomon Islands to his fellow pilgrims, Emmanuel added that he will tell them that:
There are lots of trees, beaches, fish, food gardens, high mountains and logging too.
In October, he will finish his four-year stint at the rural training centre in and he is looking forward to pursuing construction-related work using the skills he learned at San Isidro. 
Along with your generosity, the San Isidro Care Centre has been supported by Caritas Australia Solomon Islands for over five years. The training centre has helped hundreds of people with a hearing impairment gain new skills, learn sign language and create better futures for themselves.