Stories of survival on National Sorry Day 2023
01 Jun 23
Every year on 26 May, National Sorry Day remembers and acknowledges the mistreatment of Aboriginal and Torres Strait Islander children who were forcibly removed from their families and communities. Today we know these children as The Stolen Generations. 
National Sorry Day is a day to acknowledge the strength of Stolen Generations Survivors and reflect on how we can all play a part in the healing process for our people and nation. While this date carries great significance for the Stolen Generations, their families, their descendants and other Aboriginal and Torres Strait Islander peoples, it is a day commemorated by all Australians right the country.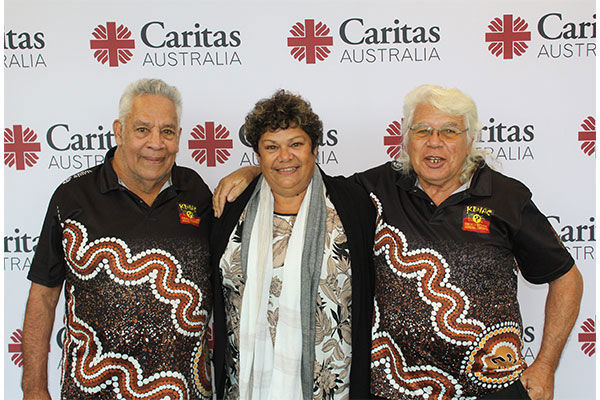 The Bringing Them Home report in 1997 acknowledged the pain and suffering experienced by Aboriginal and Torres Strait Islander peoples who were forcibly removed from their families, community, culture and Country and the pain their families and communities experienced as a consequence of these forced removals. Yet 26 years later, there has still been no systematic government response to the needs and rights of the Stolen Generations and their descendants. 
To commemorate this important observance in Australian history, Caritas Australia and our partner Kinchela Boys Home Aboriginal Corporation (KBHAC) invited all Australians to reflect on Australia's true history and commit to truth-telling about Stolen Generations survivors and their descendants by hosting a Sorry Day webinar.  
This webinar aimed to raise awareness and address the social and emotional wellbeing of survivors and their families and the need for healing in action. Schools, parishes and supporters of Caritas Australia were invited to attend and hear about the work of KBHAC, and the testimonies of KBH Uncle Roger Jarrett (#12) and Uncle Bobby Young (#24).  
'We were thrown in this big black car and taken down the peninsula. The stole my culture, my identity. Gone. When I went through them gates. They even took my name away. I became Number 12,' said Uncle Roger, as he remembered the painful and traumatic experience of being taken away from his mother and leaving his home.  
We didn't have that love from our mothers and fathers. That was taken away from us.
Attendees also had the opportunity to hear from Caritas Australia's First Australians Associate Director, Christine Rhazi, and learn about the importance of healing our nation, and supporting Stolen Generations survivors and their descendants.  
KBHAC is a not-for-profit organisation that was formed by the survivors of the state-run Kinchela Boys Home in Kempsey, NSW, who were forcibly removed from their families during childhood, now known as the Stolen Generations.   
'More than 400 boys were held at Kinchela Boys Home over nearly 50 years, making it the longest surviving Aboriginal facility for boys,' said Christine.  
We work with their services, where they look to healing, teaching, educating communities about their experiences. How they were not just stripped from their families, countries, culture, but also from their very names and referred to just by numbers.
 KBHAC takes a survivor-led approach to healing, and is committed to encouraging healthy peer support models that enable greater social inclusion in community life. Participants of the program are encouraged to take control of their own lives and address multigenerational trauma.  
The program also engages in advocacy around the impacts of child removal, with KBHAC leading advocacy through policy influence and community engagement activities.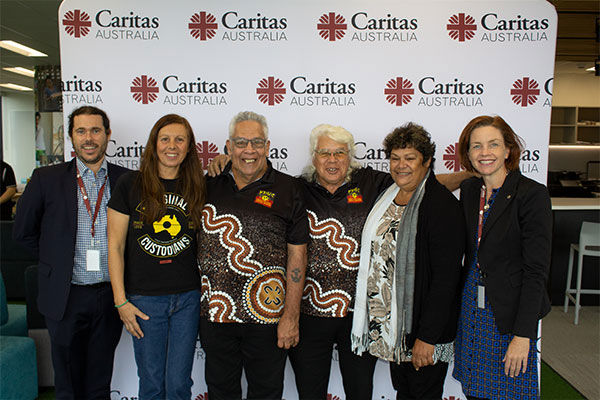 At Caritas Australia, we are committed to working towards a more just society where all can thrive. In line with this commitment, we recognise and commemorate National Sorry Day 2023, a significant day of reconciliation and remembrance in Australia. We also recognise Aboriginal and Torres Strait Islander peoples as the First Peoples of Australia and respect their cultures, lands, waters, histories, and right to live in a society free of economic, social, and cultural oppression.  
As an organisation, we decry the unacceptable gap between First Australians and non-Indigenous Australians, and acknowledge that these inequalities are the consequence of Australia's colonial history, systemic discrimination and injustice, and the failure to place First Australians at the centre of decision-making.  
With your help, we can walk alongside First Australian communities to strengthen their cultural identity, support intergenerational healing and keep culture alive for future generations. You can find out more about our work with First Australians partners by clicking the link below.