The illustrator behind our Catholic Social Teaching Toolkit
21 Feb 18
Over the years, we have loved working with James Foley, Australian children's book author and illustrator, to bring to life important poverty aid and development concepts and ideas.
You may have seen his brilliant cartoons featured in our Catholic Social Teaching Toolkit and Just Visiting resources. We chatted to James about how he has used his talent in illustrating to work for social justice.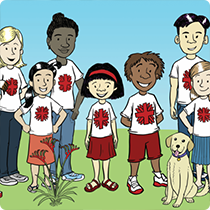 ---
When did you first become involved with Caritas Australia?
I went on an immersion with Caritas when I was at university, in 2005.
Why did you decide to support Caritas Australia?
I wanted to learn about how aid and development work; to see how it actually happens on the ground.
Tell us about your immersion experience. What was your greatest learning? What surprised you most? What did you think it would be like and what was it like in reality? How did it impact your understanding of Caritas' work?
Four classmates and myself went to Cambodia. I'd been to South-East Asia before, but only Singapore and Bali, so my expectations were a little off. Cambodia was something else. Poverty and hardship were readily apparent. The brutal actions of the Khmer Rouge were so recent that the evidence was literally underfoot. But then we took in the stunning natural environment, and met the friendly people, and saw the incredible ancient history of Angkor Wat. It was such an intense experience. 
We visited many local grassroots NGOs that supported their local communities in a number of ways; it was so useful to see how Caritas entrusted local people with caring for their own communities.
When did you start your career as an illustrator?
I always drew for myself; then I drew for my school and university newspapers. I started doing freelance drawing jobs in my early twenties. When I was 27 I joined a community of children's book writers and illustrators, and that really kicked things off for me. I've been making children's books for nine years now.
You've been involved in a few Caritas education projects, such as creating the cartoons and comics for the Catholic Social Teaching Toolkit. What did you know about Catholic Social Teaching before the project? What was most challenging/interesting about this project?
I only knew what I'd learned from my immersion experience. The most challenging thing was trying to illustrate abstract concepts in a simple way, which primary school students would be able to understand. The team at Caritas and I went through many drafts before figuring out how we could show things most clearly.
What has been your favourite Caritas cartoon project and why?
I loved working on the Catholic Social Teaching comics, and getting to learn about the Caritas projects in Brazil. I could watch the video footage of the Brazilian projects and use them for photo reference - so lots of the characters and settings I drew in those comics are based on real people and real places.
What social justice issues you passionate about?
My first child was only just born, so it's made me more aware of our environment, and how urgently we need to stop climate change. Otherwise, who knows what the world will be like when my son is five, 10 or 20?
What might you say to other artists who'd like to use their skills for social justice?
Art and story are hugely important and useful ways to get across information about issues. Everyone likes to look at cartoons and comics; everyone likes to hear stories, watch movies, and listen to music. There are infinite ways you can use your creativity to educate and inspire others. 
What other projects are you currently working on?
I'm working on a series of comic books for middle to upper primary students. They're sci-fi with a female main character and very silly humour.
---
 Check out James Foley's Website
Follow James on social media: