Red Dust Healing: The Importance of Cultural Healing Programs written from an Indigenous Perspective
29 May 19
"Certainly, what has been done cannot be undone. But what can now be done to remedy the deeds of yesterday must not be put off till tomorrow." These were the words of Pope John Paul II in his address to the First Australians in Blatherskite Park in Alice Springs in 1986, and they hold just as true today, as they did in 1986.
Caritas Australia has walked in solidarity with the First Peoples of Australia for over 40 years, being guided by respect and a belief in subsidiarity. In the words of NATSICC, 'self-determination, pride and self-respect are the banks of the river through which the waters of Aboriginal and Torres Strait Islander life flows.' Community members are best placed to understand the issues that affect them, and to formulate the subsequent solutions.
Red Dust Healing is a specific cultural healing program created and delivered by Tom Powell, which engages and encourages Aboriginal and Torres Strait Islander men, women and families to confront rejection and anger in their life. The program is delivered through one or three day workshops and examines the intergenerational effects of colonisation on the mental, physical and spiritual well-being of Aboriginal and Torres Strait Islander families.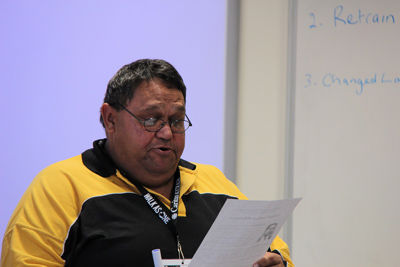 Uncle Tom during a healing workshop. Photo: Caritas Australia
In all its programs, Caritas is driven by the Integral Human Development approach, which ensures that development covers all aspects of the human life- social, economic, political, cultural, personal and spiritual. In a recent evaluation of the Red Dust Healing Program, we see that Tom's work brings these values to life.  
'Red Dust has been designed by an Aboriginal person and I think that insight into what Aboriginal people have been suffering, and need to step forward for, and realise the hurts and experienced it themselves. A lot of what he [the facilitator] experienced were tough times that led him to develop these programs and these tools. It's got to come from that [the heart] and you can't help but feel that. It has to be culturally appropriate and I truly believe it has to be Aboriginal people to drive this program and it is being driven [by Aboriginal people in Red Dust]. That's why, to me, it is a success – it has to be driven by Aboriginal people who know the full background and know the hurts and things that have been experienced over the years. I don't think anyone can understand that unless you've experienced it yourself, and certainly it comes through in this program.'
'The main benefit (for Aboriginal people) is that their spirit heals, it actually does heal. It actually comes together again, if you can visualise that. All things are possible from that place. And you can move forward. So your spirit heals and it's about integration. It doesn't matter what anyone does to us, we are whole, we are spirit. Hold your head up high, know that you're worth it, that you're as valuable as anyone else and be proud of the colour of your skin. Be proud of it and your people are with you. And Red Dust Healing brings you back to that place.'
Earlier last year, Tom was recognised for his outstanding achievements at the Annual Mental Health Matters Awards, receiving the Aboriginal Social and Emotional Wellbeing Award for his dedication to improving the mental health of the Aboriginal and Torres Strait Islander community.
It is through Tom's great work that we are reminded of Pope Paul VI's words, "it is not just a question of eliminating hunger and reducing poverty…it involves building a human community where all can live truly human lives."