The Syrian Conflict
15 Oct 19
Since the Turkish military operation commenced in the afternoon of 9 October 2019, there have been continuing reports of intense shelling and airstrikes along the north-east Syrian border.
Tens of thousands of civilians have fled from the fighting.
Young mother (20) with two little daughters. Her husband was lost in the war. 
Photo credit: Alexandra Wey, Caritas Switzerland.
The full humanitarian impact of the current military operation remains difficult to ascertain given the volatile situation. 150,000-160,000 people are on the move, and additional reports of mass migration keep coming in.
The Caritas network is assessing needs on the ground and preparing a response: 33 Caritas offices, in cities like Raqqa, Al-Hasakah and Tal Tamer will receive essential emergency supplies.
Caritas Syria's Al-Hasakah Office has already received 500 displaced families from the affected areas and provided them with drinking water bottles.
Syrian children play in puddles in Ashrafieh, East-West Aleppo. 
Photo credit: Alexandra Wey, Caritas Switzerland.
A timeline of the Syrian Civil War and the work of Caritas Australia
March 2011: Syrian conflict escalates.
August 2012: Caritas Australia supports the Emergency Appeal in Lebanon, providing immediate humanitarian assistance like food, medical supplies and shelter.
May 2013: Department of Foreign Affairs and Trade issues program support for humanitarian assistance.
May 2015: Department of Foreign Affairs and Trade program for Protection Activities in Lebanon: helping to train security forces, offer legal assistance, and provide ongoing humanitarian assistance and awareness raising.
June 2015 - present: Caritas commences work with the Oak and Cedar shelters in Lebanon, supporting mothers and children displaced by the Syrian conflict. Support offered includes residential needs, psycho-social support, education for children, medical assistance and post shelter support.
April 2016 - present: Caritas continues work at the Caritas Education Program in Jordan, offering free school and counselling programs to thousands of young Syrian refugees.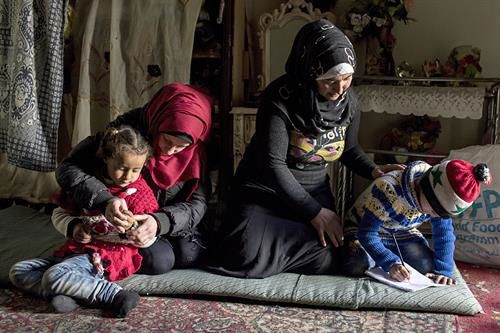 A mother and children play inside home. Her husband was killed by a rocket.
Photo credit: Alexandra Wey, Caritas Switzerland.
Through the support of generous donors, the wider Caritas network has been able to provide: drinking water, emergency food baskets, blankets and mattress, medical aid, cooking tools and clothes.


Daniel Nour is a Content Specialist at Caritas Australia.