Together Again in Papua New Guinea. Caritas Oceania Forum 2022.
28 Oct 22
This month, Caritas Oceania held their annual Caritas Oceania forum in person in Papua New Guinea for the first time since the COVID-19 outbreak.  The Annual Forum brings together Caritas Oceania members from across the entire region. 
Caritas Australia staff and our partners from Caritas PNG, Aotearoa New Zealand, Tonga, Fiji and Samoa came together to discuss the issues and challenges facing our region. Old friends were reunited, relationships were strengthened and there were many moments of laughter and song. Together, we were able to have important discussions and decisions about who we are as a region and how we can best work together to bring attention to our shared issues, like the climate emergency. 
We also were joined by the Episcopal Conference of the Pacific and representatives from Catholic Relief Service USA and Secours Catholique from France.  
As climate change induced-disasters continue to drain the resources and finances of Pacific nations, these challenges, combined with the shocks of COVID-19 and the international cost of living crisis, is leading to devastating impacts on vulnerable communities across the Pacific. 
The forum was also used as the launching platform for Caritas Oceania and Jubilee Australia Research Centre's latest report on climate finance in the Pacific which you can read about here. 
We were delighted to be a part of an amazingly diverse network with exciting and notable guests from around the world.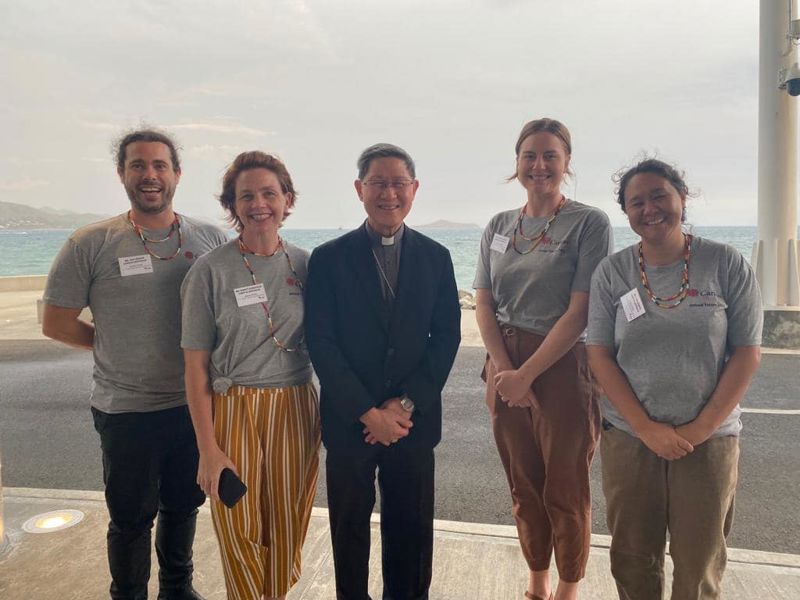 Thank you to our special guests 
Joining the forum was President of Caritas Internationalis, His Eminence Cardinal Luis Antonio Tagle, to strengthen the relationship between Rome and the Pacific region and help us bring forward the climate agenda. 
We were also thrilled to be joined by The Right Reverend Bishop Jozef Roszynski, from the Diocese of Wewak in Papua New Guinea to represent the Catholic Church in PNG and to share his unique perspective from Wewak.  
The Most Reverend Archbishop Peter Loy Chong, from the Archdiocese of Suva, was also in attendance, to lead us in prayer and spreading a message from across the Pacific.  
Representing Caritas Australia at the forum were CEO Kirsty Robertson, Dan Skehan, Caritas Australia Programs Director, Lana Hanely, Pacific Associate Director, Sophie Jenkins, Strategy and Organisational Performance Associate Director and Emma Larsen, Caritas Oceania Accompaniment Coordinator, 
After the event, our CEO Kirsty Robertson spoke briefly about the experience: 
"Attending the Caritas Oceania Regional forum was a very special part of the trip for me - an opportunity to reunite with Puletini Tuala, Caritas Oceania Regional Accompaniment Coordinator. It was also an opportunity to meet many of my peers, the executive directors of other Caritas' across our region. 
Whilst much of the meeting was taken up with getting everyone "on the same page" there were some robust discussions on the governance of the region, which is currently managed out of NZ, around how we collectively respond to disasters in our region and around our understanding of vulnerability. This last point was a continuation of feedback I heard when I was in Africa - that people on the margins are increasingly tired and frustrated by our strengths-based language and approaches. It was once again, an invitation to reflect."