Turkey-Syria earthquake: 6 months on
09 Aug 23
It has been six months since the devastating series of earthquakes which struck Turkey and Syria, causing deaths, injuries, and widespread damage across the region.
In Turkey, over 50,000 people were killed, and over 100,000 injured.
In Syria, over 8,000 people were killed and over 14,000 injured, stretching resources to breaking point in a war-torn country where 90% of the population lives in poverty.
Over 9 million people have been affected by the earthquakes in Turkey, with over 3 million forced from their homes.
What is the situation six months on?
Rebuilding efforts are ongoing, but could take several years to complete, leaving many people with no home to return to and no source of income. People are also suffering from trauma, and the emotional toll of recovering from injuries and the loss of loved ones.
Temporary accommodation like tents and containers are home for thousands of people in both informal and formal camps of survivors. In Syria several of these informal camps lack access to clean water.
In Turkey, informal camps are currently being dismantled, with survivors being moved into the formal camps. This is increasing a sense of insecurity, and causing more problems for people who don't legally reside in the country and are denied access to the formal camps.
What support has been given to survivors?
Since day one of the earthquake, the Caritas Network has been working to provide relief to the victims through the distribution of hygiene kits, food packages including cooked meals, baby food kits and diapers, vouchers to allow survivors to buy basic necessities, emergency shelter, and access to clean water and sanitation support among other things.
Your generous support has helped thousands of people to stay safe and healthy after one of the deadliest earthquakes in modern history.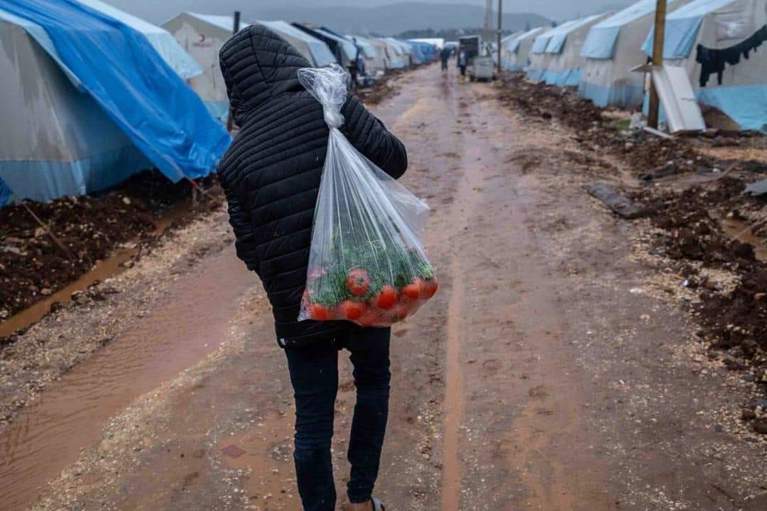 Thanks to the support of the Caritas Confederation, we will be able to contribute to the reopening of schools and enable thousands of families who are homeless to meet rent costs and cope with other needs…I would like to thank those who have supported us first. Your solidarity allows us to continue our mission here in Syria.
What support is still needed?
Millions of people were displaced by the earthquakes, and with an estimated 90% of them still living in temporary camps, support is still needed for access to basic necessities like food, clean water, and sanitation and hygiene facilities.
Challenges and needs are enormous and will require years of commitment from all organizations on the ground…it is urgent to be able to build houses…there is also a great need for jobs and education.
What can you do to help?
By donating to our Turkey and Syria earthquake appeal, you can help to provide, food, clean water access, shelter and other necessities to people who have been displaced by this devastating earthquake.