Twin clouds on the horizon: climate change and debt in the Pacific
06 Oct 22
Climate Change in the Pacific
The Pacific region is currently facing a perfect storm of climate change induced disasters and skyrocketing debt burdens. The Pacific Islands region is at the frontline of global climate change, and our neighbours across the region are facing rising sea levels, and more frequent and extreme weather events than ever before. Pacific Island nations are being hit by one disaster after another, often while still rebuilding from the last one, which is pushing many countries into debt. 
Caritas Oceania and Jubilee Australia Research Centre have released a climate finance report titled: "Twin clouds on the horizon: averting a combined climate and debt crisis in the Pacific through Locally-delivered climate finance".  It is the first report to look in detail at debt, climate change and their combined impacts on the Pacific region.
After listening to the needs of Caritas Oceania members and communities throughout the Pacific, climate adaptation and finance were chosen as key areas for research and advocacy.
The report calls on Australia to lead the international community in strengthening the ability of Pacific nations to withstand the shocks of climate change, through restructuring debt, improving climate finance and funding the Pacific Resilience Facility.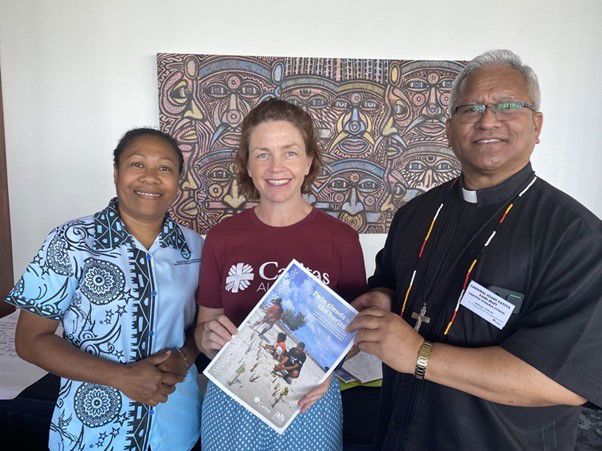 "Seven Pacific nations including PNG are already at risk of high debt distress. Look at what happened to Vanuatu, where public debt more than doubled after Cyclone Pam in 2015 due to the cost of repair and reconstruction. We need sufficient climate finance to allow us to protect our communities from climate change without worsening our debt burden."
What is climate resilience in the Pacific?
Ensure money gets to those who need it most at the local level.
Offer better options for debt relief – particularly after natural disasters – and restructure regional finance system to make it more robust and able to withstand climate shocks.
Ensure funding is provided as grants rather than loans to avoid increasing Pacific Island countries' debt.
Ensure that climate finance commitments in the Pacific meet estimated adaptation costs of close to $1 billion per year – right now they receive less than half this amount for adaptation.
Commit to sending climate finance through options like the Pacific Resilience Facility which give Pacific governments and institutions control.
How is climate change affecting the Pacific?
As climate change induced disasters continue to drain the resources and finances of Pacific nations, these challenges, combined with the shocks of COVID-19 and the international cost of living crisis, could lead to unprecedented economic instability in Australia's neighbourhood.
While developing the report Caritas Oceania and Jubilee Australia Research Centre engaged with communities on the front line of climate change in the Pacific, so that we could best represent the challenges local communities face to accessing climate finance.
Communities told us there was a: 
Lack of awareness of what climate finance might be available to support local adaptation and how to apply for it - particularly a problem for women and vulnerable groups.
Lack of financing mechanisms specifically focused on grassroots, local and traditional solutions.
As we fight for climate resilience in the Pacific, these recommendations aim at ensuring that the global community does what it needs to do, to support Pacific Island countries to adapt to climate change. The real challenge for the world is to listen to us. To see with their eyes, and listen with their ears, to those on the frontlines of climate change.