Universal Children's Day
19 Nov 19
20 November 2019 marks Universal Children's Day a celebration of the international rights of the child and a call for peace. It was established in 1954 to promote togetherness, awareness among children worldwide and improving their welfare.
Universal Children's Day is both an inspiration and opportunity for communities to come together to improve child welfare worldwide, celebrate and promote, through dialogue and actions, ways to build a better world for children.
Photo credit: Caritas Australia
The date also marks the anniversary of the UN adoption of landmark legislation, the Declaration of the Rights of the Child and the Convention on the Rights of the Child. The legislation sets out a number of rights including the right to be protected from violence, discrimination and the rights to life, health and education.
Caritas Australia supports the development of childhood well-being through an extensive array of programs.  In education, Caritas Australia and its' partners, are currently developing and delivering programs across Oceania, Asia, South America and other regions.
    "At Caritas Australia, our work is focused on creating a future for children that is free from social injustices and full of dignity and hope. Ensuring that each child grows up feeling safe, with more opportunities in their lives and a peaceful environment to grow up in is our goal in every village we work in." – Ranmal Samarawickrama, Manager, Asia, Caritas Australia
Photo credit: Caritas Australia
Did you know everyday children have their rights denied?
262 million youth and children are out of school
650 million girls and women were married before their 18th birthday
5.4 million children died from preventable causes, by their fifth birthday (Source: UNICEF)
Caritas has supported orphans, refugees, disabled and homeless children with access to basic human rights including education, health, humanitarian aid, to improve their livelihood. They also support teacher training and have programs underway to help boost poor literacy rates and the welfare of children at school.
Photo credit: Caritas Australia
Case study: Implementing Child Protection Policy in Rapti Municipality
Gyanodaya Secondary School is located in rural Dang, nearby the Rapti Municipality. It has an enrolment of 930 students yet lacks a good management system, just as many public schools throughout the region. Public schools like Gyanodaya are characterised by inadequate infrastructure, low quality teaching, resources and facilities. They predominantly house students from poor and marginalised communities who must be content with the poor infrastructure as their parents cannot afford private schooling.

In 2018, the Milap Cooperative launched their Children and Youth Empowerment project under the NLRP and formed the Srijanshil (Creative) Peace Child Club. Under the project, 30 children participated in various capacity building trainings on child rights, peace building, child protection policy, child friendly local governance, child to child and other extra-curricular activities including child leadership development, advocacy and campaigns.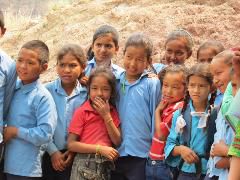 Photo credit: Caritas Australia
The Srijanshil (Creative) Peace Child Club prioritises children's safety above all. A peace facilitator oversees child protection and there are strict safety laws to minimise harm from child negligence and violence. This helps to promote a nurturing and child friendly school which empowers children to be creative, active, honest and obedient. Opportunities for children to showcase their talents without fear of abuse or harassment creates a more positive schooling experience.
Photo credit: Caritas Australia