Vatican World Cycling Team learns about reconciliation from Kinchela Boys Home survivors
03 Oct 22
As part of their visit to Australia to compete in the 2022 UCI Road World Championships, the first ever Vatican World Cycling Team joined Caritas Australia last week to learn more about truth-telling and reconciliation.  
The Vatican team, along with Archbishop Charles Balvo, the Apostolic Nuncio to Australia, visited Caritas Australia's office in Sydney to spend a morning with our First Australians partner Kinchela Boys Home Aboriginal Corporation.  
The team had the opportunity to learn about Australia's history of kidnapping Aboriginal children from their families and communities, and the intergenerational trauma that this has brought to Indigenous communities in the country. 
The Vatican World Cycling Team heard all about truth-telling and reconciliation in Australia from survivors of Kinchela Boys Home, Uncle Roger Jarrett (#12) and Uncle Richard Campbell (#28).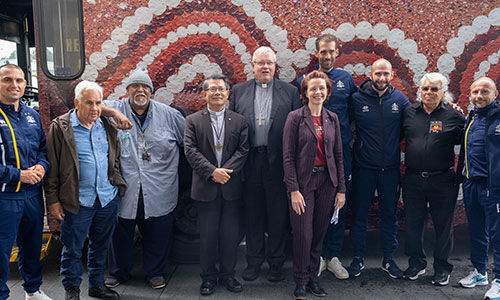 "The pain [of being kidnapped] is indescribable...being taken as a kid, you just lose everything, your love and your heart just goes. You're put in that place where you're just a number, and it's very painful, it's still painful today," said Uncle Roger Jarrett.    
"It is integral to our commitment to reconciliation and truth-telling that we prioritise the voices of our partners and amplify the stories of those who have been most impacted," said Kirsty Robertson, Caritas Australia's CEO.   
"For us it was more important to have done this than to be standing on the podium on Sunday," said Rien Schuurhuis, a Dutch-born professional cyclist who made his world debut representing the Vatican in Wollongong on 25 September. 
The reconciliation learning session was followed by an exchange of gifts. 
Vatican World Cycling Team gifted an Athletica Vaticana shirt to Archbishop Balvo as a token of gratitude, and to commemorate their historical visit and their competition in Australia.  
In return, Caritas Australia gifted presented the Team and Archbishop Balvo with crosses hand-painted by Indigenous Australian artists. One of these crosses was brought back to Vatican City and given to His Holiness Pope Francis.  
With your support, Caritas Australia works in close partnership with Aboriginal and Torres Strait Islander peoples, and First Australian-led organisations to support programs that focus on intergenerational healing, strengthening cultural identity and spirituality, livelihood opportunities, and advocacy. 
Kinchela Boys Home Aboriginal Corporation (KBHAC) is a longstanding partner of Caritas Australia, and was formed by the survivors of Kinchela Boys Home in Kempsey, New South Wales, who were forcibly removed from their families during the Stolen Generations. It seeks to address the trauma of being forcibly removed from their families, as well as the multigenerational trauma that adversely impacts on the lives of their families and descendants.      
KBHAC takes a survivor-led approach to its governance and healing, and is committed to encouraging healthy peer support models that enable greater social inclusion in community life. 
Thanks to your generosity, KBHAC can continue to support First Nations men, their families and communities in developing healing programs to restore and reconstruct their identity, dignity and integrity.