Working for peace
29 May 17
Caritas Australia's Content Specialist, Daniel Nour recently went to Israel and the Palestinian territories. During his trip, Daniel visited the Caritas Jerusalem office to learn more about their work and he has shared his experience with us.
My trip to Israel and the Palestinian territories was profoundly moving and powerful.
Apart from the context of daily struggle in which the people of the Palestinian territories find themselves, I was also privileged to witness the enormous strength and persistence of Caritas staff, who face the tedious challenges of constant security checks and restrictions on their movement, and continue with resourceful enthusiasm in spite of this.
Restrictions on movement in particular are counter-productive to their work in bringing much needed supplies to Palestinians throughout the West Bank and also in Gaza.
The Muslim majority Hamas-led Gaza is a high security statelet between Israel and Egypt. The West Bank, some 40km East of Gaza, is subject to a mixture of Israeli and Palestinian government and has a proportionately higher population of Christians than the Gaza strip.
Both regions face poverty, medical and education difficulties, and problems of youth unemployment, youth drug and alcohol abuse.
Caritas Jerusalem, part of the Caritas Internationalis network, works with young and old, Muslim and Christian throughout the Palestinian territories.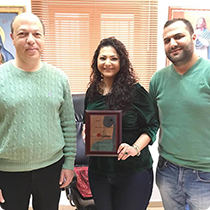 Caritas Jerusalem staff (L to R): Harout Bedrossian, Rima Shahin, Nicholas Atallah. Photo: Daniel Nour, Caritas Australia.
Here are some statements from Caritas Jerusalem Communications Manager, Harout Bedrossian, who I interviewed at the Caritas Jerusalem offices in East Jerusalem last month, on the work the Caritas network performs in the conflict ridden region.
"Caritas Jerusalem was established in 1967 after the Six-Day War (when Israel's territory expanded after it defeated Egyptian attacks). We have five big departments."
Social Services
"The social services department, which is the heart of Caritas. The social department helps in school tuition fees, university students sometimes, medical intervention, Christmas campaigns and recently some projects in women's empowerment, employing women and vocational training and so forth."
Micro-credits
"Micro-credits give loans to people, not big amounts, but enough for University education, home renovations, small business and emergencies. This is a revolving fund. People who can't get money from the bank come here."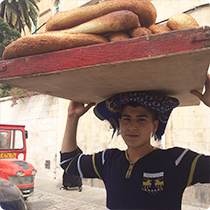 A young person in Jerusalem. Caritas Australia works closely with youth to empower them. Photo: Daniel Nour, Caritas Australia.
Youth
"This empowers youth, it gives them extra-curricular activities. If someone can't get a job, or can't write a CV, we help them with that. Currently we have a new project with Caritas Spain, where we coordinate with the youth of Spain and the youth of Palestine. The Christian youth of every Palestinian parish coordinate with the Spanish to help the poor, the elderly and the sick."
Development
"This is also called the food and livelihoods department. Here we spearhead projects like building wells for agricultural rehabilitation of land. For instance, we have built the sewage system of Beit Sahour (a Palestinian town east of Bethlehem)— and more than 97% of it was taken care of by Caritas. This also creates jobs for local unskilled labourers. We also have small projects in Gaza in development."
Health
"We have two clinics, in Aboud and Taybeh (Palestinian villages in the West Bank.) There are emergency rooms which can help any persons in need, before getting to the doctor. We also have projects like local health committees which are based in the West Bank and in Gaza. These create awareness sessions, where people who have NCD's, non-communicable diseases (such as diabetes and high-blood pressure) can learn more about them."
"We have a specialist diploma with Bethlehem University where we graduate specialists to deal with drugs, alcohol and shisha addiction (tobacco water pipe)." - Harout Bedrossian

On a 2014 trip to the Holy Land, Caritas Australia CEO Paul O'Callaghan said, "Hopefully, over time we will see a return to the respect for human dignity, freedom of movement, freedom of speech, and equal access to water and other resources that we know can be achieved in the Holy Land."
I am heartened by the substantial work performed by Caritas on all of these counts, in spite of the political stalemate and a slow and often fruitless peace process.
I hope and pray for real and effective improvements to the quality of life for the people of the Palestinian Territories, and the enjoyment of a just peace for the citizens of Israel.