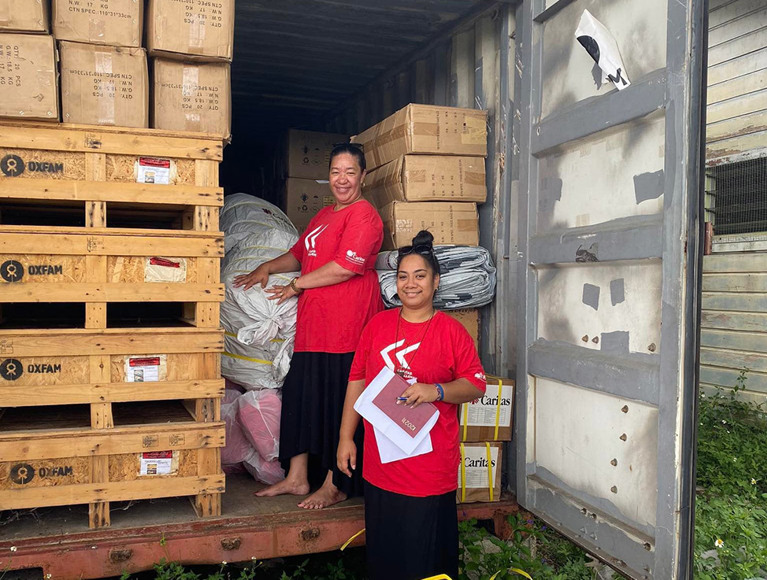 The people of Tonga who have been affected by this disaster are in need of: 
Clean drinking water 
Shelter for families who lost their homes 
Psychosocial support for people who were evacuated 
Food support for communities whose soil and crops were contaminated by saltwater and toxic ashes. 
We are working alongside our partner, Caritas Tonga to support the most impacted communities through the local Church networks.  
Give what you can today to help communities get the emergency support that they need to recover from natural disasters and crisis. 
Donate today to support vulnerable communities to recover in the wake of devastating disasters. 
How will my donation support communities?
Clean water
Improve access to clean water through the provision of water carrying containers and water tanks.
Psychosocial support
Enable training for community counsellors to support people who have been impacted and are recovering from disasters.
Emergency supplies
Replenish Caritas Tonga's emergency relief supplies so they can be distributed quickly and efficiently to people in need when disaster strikes.
Pandemic response
With COVID-19 continuing to impact communities in Tonga, your donation can help to provide face masks, sanitiser, critical training and community awareness raising. 
Where does my donation go?
The funds raised through our Tonga Emergency Appeal will be used to provide immediate and more long-term humanitarian assistance to communities affected by natural disasters and crises in Tonga. If any funds are leftover, or if there are changes in circumstances beyond our control which limit our ability to use the funds, they are kept in the Pacific Emergency Appeal so that we can respond to ongoing needs and future crises in the region.