Celebrating Rohingya refugee communities in Cox's Bazar for World Refugee Day
20 Jun 21
This World Refugee Day, we're celebrating the Rohingya refugees working together to improve living conditions and community safety in Cox's Bazar, the largest refugee camp in the world.  
Forced displacement impacts 80 million people worldwide

 
This year's theme for World Refugee Day is "Together we heal, learn and shine". It's a time to remember the hardships faced by those who have been displaced by conflict, and to celebrate their achievements. 
Forcible displacement is when people are forced to leave their homes because of conflict, disaster or persecution. The most recent figures from UNHCR show that for the first time ever, there are 80 million people displaced worldwide. This is the equivalent of one person becoming displaced every 2 seconds. 
Refugees are considered people who have been forcibly displaced by conflict or persecution, and are defined and protected by international law. There are currently 26 million refugees in the world – more people than the entire Australian population.  
Refugees and forcibly displaced people usually live in low and middle-income countries, which puts a strain on host communities and resources. They also contend with poverty, lack of support and legal issues. Many communities may have fled violence or persecution only to continue to face ongoing violence or persecution in the aftermath.  
On average, forced displacement lasts 20 years for most refugees. This means that entire generations are raised without adequate access to education, healthcare and support.  
When crises hit, refugees and forcibly displaced communities are the most at risk, because they are more likely to have worse living conditions than other local communities, and have less access to support from local governments. This has been the case during COVID-19, as many refugee communities, including the Rohingya in Bangladesh, lack regular access to clean running water and soap, making preventing the spread of the disease especially challenging.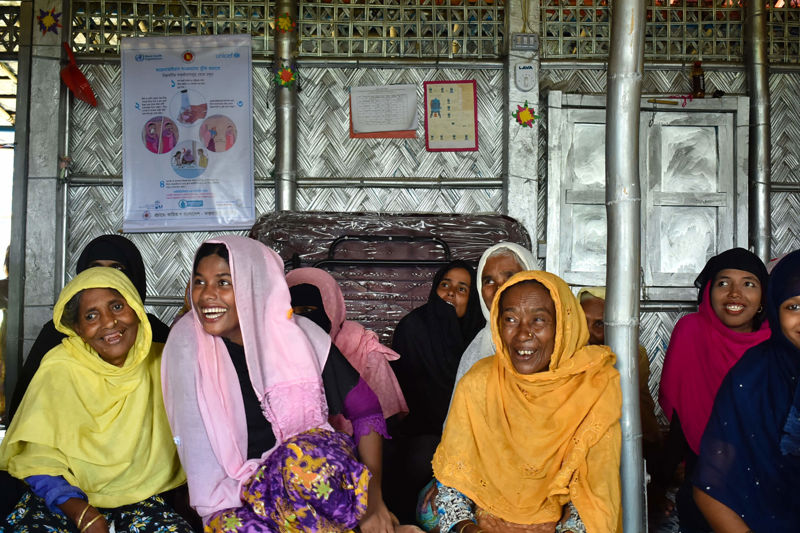 Rohingya community in Cox's Bazar 
Cox's Bazar is home to nearly 1 million Rohingya refugees, who live in cramped informal housing with limited access to clean water, health care and employment options, after fleeing the conflict in Rakhine state in Myanmar in 2017. Earlier this year, 45,000 Rohingya in the camps were made homeless after a massive fire swept through the area, which also destroyed vital infrastructure including health facilities.  
Despite these challenges, many Rohingya have been active in their communities, helping their neighbors to prevent the spread of COVID-19 and improve safety for women and children.  
Recent research by Caritas Australia and local partner, Caritas Bangladesh, has found that community-based programs in the camps have had a significant positive impact on the wellbeing of women and children. 
"We know that community members are the best placed to lead initiatives to improve wellbeing, because they know what the problems are and already have great ideas for how to solve them."
"When it comes to complex or sensitive issues like prevention of violence, mental health or early marriage, we listen to the people we work with so we understand the barriers, and work with communities to find the right solution for that context, rather than coming in with a predetermined idea about what communities should do," said Bernice Sarpong, Caritas Australia's Humanitarian Program Coordinator for Asia.  
"Cox's Bazar in particular presents a lot of challenges: early marriage, violence, physical or mental health issues and child protection are all concerns where you have so many people living in close proximity without access to meaningful employment opportunities or many of the essential services that a citizen enjoys. But it doesn't mean that people can't work together to make their communities healthier, safer and happier." 
Community trainers in the camps work to keep their families and community safe during the pandemic. This means that community trainers are responsible for inspecting and organising the cleaning of washrooms, wells and toilets in their block, and ensuring that their neighbours are maintaining COVID-19 prevention strategies.  
Please support people living in the camps. To make a difference to vulnerable communities in Asia, please donate to our Asia Regional Appeal.