World Water Day
22 Mar 22
Today marks World Water Day which is celebrated every year. A staggering 2.2 billion people currently live without access to safe and clean water and 40% of the world's population is affected by water scarcity. World Water Day aims to inspire action towards the United Nations' sustainable development goal of providing water and sanitation for all by 2030. 
This year's theme, Groundwater: Making the invisible visible, refers to the water found underground in the cracks and spaces in soil, sand and rock. Almost all the freshwater in the world is groundwater, supporting drinking water supplies, sanitation systems, farming, industry and eco systems, and in the driest parts of the world, it may be the only water people have. The theme acts as a reminder that that even though groundwater is invisible, its impacts are visible everywhere.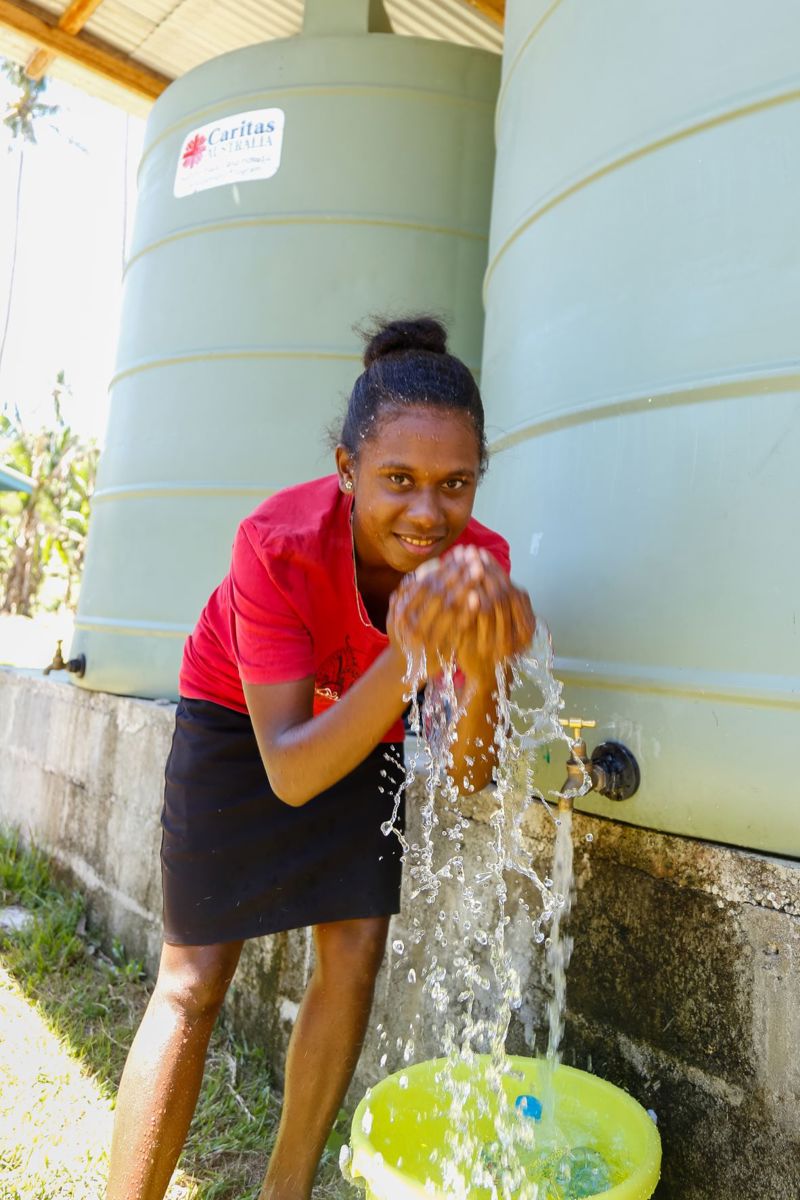 4.2 billion people
are living without adequate sanitation facilities
1 in 3 schools
lack access to water and basic sanitation
80% of water-deprived households
involve women and girls carrying the burden of water collection
200 million hours
are collectively spent by women around the world, collecting water
Water is one of the most valuable and abundant resources on Earth. Yet, water scarcity exists in many countries and is a growing threat to millions of people around the world. According to the World Health Organisation (WHO), around 785 million people around the world lack access to safe and clean drinking water. This issue arises when the demand for clean and safe water outweighs the supply, and as global populations steadily increase, so does the need for more water.  
Caritas Australia works with vulnerable communities around the world, through our partners, to improve access to clean and safe water, as well as sanitation and hygiene.  
Water and sanitation have a significant impact on healthcare, education and food production, which contribute to a community's overall health and development. For instance, at least 1 in 3 schools lack access to water, sanitation and hygiene (WASH). Without these basic facilities, children and young adults are often forced to miss out on classes or even drop out of school. 
This was the case for Shaniella. 
Shaniella was determined to forge a path out of poverty and moved away from her home in a small village in the Solomon Islands to study at a rural vocational school, which is supported by Caritas Australia Solomon Islands (CASI), through the Happy, Healthy, Holistic Community Development program.  
However, her vocational training school was hit by a landslide and cyclone in quick succession, destroying its water supply system and the vegetable garden that it relies on for food.  
Thanks to your generosity and support, CASI was able to assist Shaniella's school by installing eight water tanks. This restored students' access to clean drinking water and the tanks also supply water to nearby schools, health centres and the wider community.  
"Thanks to the training provided by the program, I now feel ready and better-prepared for disasters."
 Now, Shaniella can complete her job skills training with enough water and food to eat, as well as better hygiene and sanitation, helping her ability to earn an income, learn new skills and ultimately gain a sustainable income.  
The school community has also increased and diversified its crop supply and its number of poultry has quadrupled.  Students are also better prepared to respond when disaster strikes.