A message from Bangladesh's flooded refugee camps
11 Aug 21
Heavy rains and severe flooding have pounded Bangladesh in recent weeks, causing landslides, killing over 20 people and displacing over 13,000 Rohingya refugees in the Cox's Bazar refugee camp, with thousands of shelters destroyed or damaged. The situation is further complicated by COVID-19 and a strict national lockdown. 
With your support, we're able to help to respond to unfolding emergencies, like the floods in Bangladesh.
Caritas Bangladesh's Head of Operations, Emergency Response Program, Inmanuel Chayan Biswas, sent this message from the field, describing the situation on the ground during this time.
Message from Caritas Bangladesh - Inmanuel Chayan Biswas, Head of Operations, Emergency Response Program – August 2021.
After four days of continuous rain, 400 villages in Cox's Bazar, Bangladesh, are now flooded. Most people in the area haven't seen such a flood for the past decade. Floodwaters have damaged the few pieces of hard-earned furniture. Many of the sources of pure water are submerged in water. Agricultural lands and sources of income are being destroyed by being submerged in water. 
Many people have been evacuated to safe shelters but there has been a shortage of dry food. As the water level continues to rise, it has disconnected many areas from the municipalities which is also increasing the risk of landslides in different areas.   
Although there is relief assistance available, many people are outside of the areas where relief is provided, and as a result, they are starving or half-starved. Although the floodwaters are temporary, the effects will be long-lasting, especially on livelihoods. It will be very difficult for poor people to overcome the effects of this flood, as many of the families are dependent on agriculture.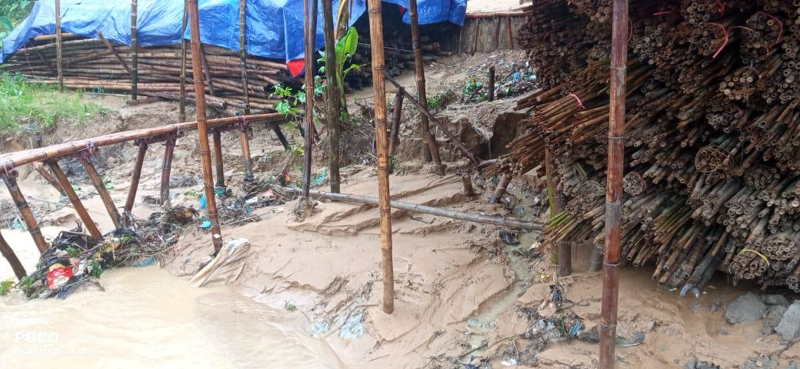 Many houses in the Rohingya camp have been submerged in heavy rains, and the Rohingyas living in the camp are in extreme misery and panic. Landslides have occurred after several days of continuous rains. There is danger of a major accident at any time as most of the camp area is constructed in the hilly area. 
Immediate assistance is required to address the immediate need and I urge people to extend their generosity to the Rohingya and the host community. 
Caritas Bangladesh has been present on the ground from the beginning. We have been ensuring immediate shelter support to the families who lost their shelters due to the heavy rain and landslides. We also have been providing immediate psychosocial, protection, and water, hygiene and sanitation (WASH) support to ensure that they are being loved and can find comfort during their immediate need.  
You can provide support for communities devastated by natural disasters around the world, including floods, earthquakes, cyclones or COVID-19, through our Asia Regional Appeal.
Along with your generous support, this program is supported by the Australian Government, through the Australian Humanitarian Partnership (AHP).