Women as leaders in their communities
21 Sep 22
When women are provided with opportunities to become leaders, they can bring about lasting change in their communities.
However, research has shown that women are disproportionately affected by poverty, food insecurity, climate change, gender-based violence and abuse, as well as a lack of access to education, health care and employment, depriving them of the opportunity to become leaders and advocates for change.
According to the United Nations, women from across the world aged between 25 to 34 are 25 per cent more likely than men to live in poverty.
Additionally, traditional social structures, stereotypes and attitudes about women and their roles in society may further contribute to the restriction of women's rights and freedoms.
Even though there has been significant improvement in the areas of gender equality and the empowerment of women over the last few years, the progress for women and girls living in vulnerable communities around the world continues to be uneven.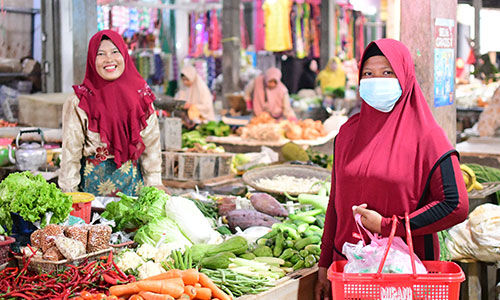 Your generosity helps facilitate the development, growth and education of women, especially those living in communities that are prone to poverty, natural disasters and inequality.
Women and girls should have the same rights as men to access adequate food, water, shelter, sanitation, clothing, health care, education, property and participation in decision-making processes.
Thanks to your ongoing support, we are continuing our mission of eliminating discrimination, working towards gender equality and advancing women's rights, along with promoting respect for all people – irrespective of their age, culture and position in life.
Tarsini is a rice farmer who was struggling to make a living in a rural village in Indonesia.
With her husband in irregular work and a weak local economy, the couple's financial future was uncertain, and they were forced to take out loans to cover their daily living expenses.
This made them vulnerable to high interest and debt and they experienced periods of extreme poverty.
Tarsini was forced to leave her village to find employment as a migrant worker overseas for five years to help to pay off her family's debts.
On her return, her future remained uncertain but she was determined to forge a path out of poverty. She heard about a savings and loans group in her village, supported by Caritas Australia and our local partner organisation, Laz Harfa. Tarsini joined and participated in training in financial management, accounting and small business skills.
After several months, she decided that she wanted to help others in her community to learn about managing their finances.
With your generous support, Tarsini was able to set up a microfinance kiosk to help to facilitate savings and loans in her neighbourhood.
Her business is designed to encourage members of the community to adopt a culture of saving and entrepreneurship, while providing them with affordable loans and educating them in financial literacy.
Your support has also helped Tarsini to diversify her crops and she now grows cucumber, tomatoes, eggplant, celery and chillis, as well as rice. She is in better health, with a more nutritious diet and her neighbourhood is more harmonious.
Over 6,000 people have benefitted directly and over 9,000 indirectly from this program so far.
The Economic and Community-based Health Development Program has:
Strengthened the capacity of nearly
20 savings and loans groups to drive economic and social development
Supported 150 people 
to attend household economic training
Trained 50 people in business skills
including entrepreneurship and marketing courses
Established four new kitchen garden groups
involving 40 farmers.
Pronali is an indigenous woman living in rural Bangladesh. She was married at a young age and worked only at home to raise her children, with no income of her own or financial independence.
Through the Caritas Bangladesh Safe Motherhood program, Pronali received the training necessary to become a midwife in her local community.
She is now conducting deliveries of pregnant women who live in remote areas where there are limited clinics or hospitals.
With further training and continuous practice, Pronali hopes to build a primary health check-up and first aid centre so that she and her team can provide safe motherhood services.
Pronali is now recognised as an integral member of her community and as a family health service provider, bringing her closer to achieving her dreams.
"I will try my best to admit my son and daughter in the medical education," said Pronali.
Along with your generous support, this program is also supported by the Australian Government, through the Australian NGO Cooperation Program (ANCP).
Aloma's village was heavily impacted by Typhoon Santi. As a result, she faced financial difficulties with her house and the local banana and coconut plantations severely damaged.
Since then, she has become the treasurer of her local area and is part of the Disaster Risk Reduction Council, helping manage evacuations during emergencies.
Additionally, Aloma was also recognised for her leadership at an exhibition held by the Department of Environment and Natural Resources in the Philippines earlier this year.
Thanks to your generosity and support, Aloma gained a range of skills through the program, including bookkeeping, managing logistics, and understanding ecology and environmental conservation.
Caritas Australia is currently holding its annual Women for the World campaign to raise awareness about the disproportionate impact of poverty on women and girls globally. Please join us in being a champion for a world where all women and girls are able to reach their full potential.