Caritas Australia stands with Lebanese as they assess extent of blast damage
21 Aug 20
Following the massive explosion which killed over 200 and wounded over 6500, Caritas Australia with its partners on the ground, responding to the immediate needs of blast survivors in Beirut.

Though Lebanon is now entering a two-week Government enforced coronavirus lockdown, the Caritas network has been given the 'green light' to continue working closely with communities at this fraught time.

An appeal response of over $100,000 provides essential emergency support in the form of goods like:
Food
Hygiene materials like soap and water
Masks
Blankets and heaters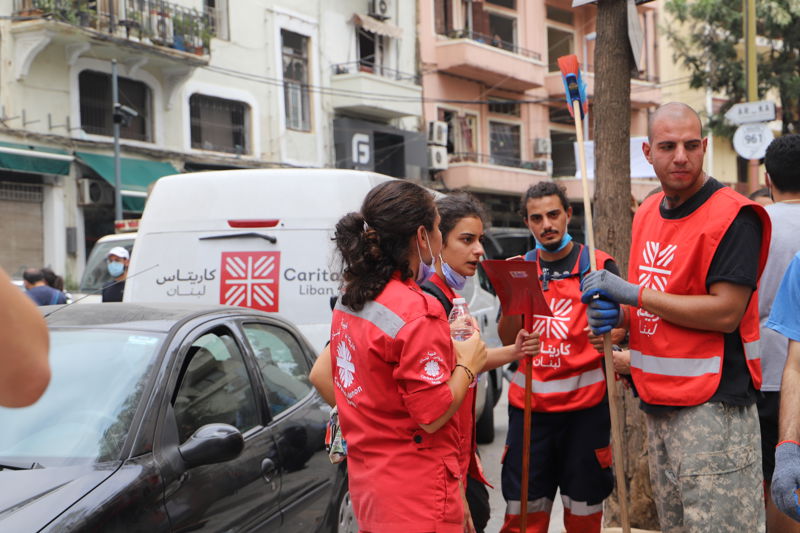 "The situation is dire. Caritas Lebanon has told us that hundreds of thousands of families were affected, many of whom are sleeping in shattered homes and in the streets during a deadly pandemic. The economy is in free fall and parts of Beirut are uninhabitable," Caritas Australia CEO, Kirsty Robertson said.
"Our partners are on the ground working to support affected families and communities."
Caritas Lebanon is implementing home visits for those wounded in the explosion, by doctors and nurses. With its network of 750 youth volunteers, who come from all over Lebanon, in-country workers are tirelessly responding to needs on the ground, such as:
Ongoing clean-up efforts
Mental health consultations with blast survivors
Assesment of shelter damage so that engineers can be involved in repair efforts
Emergency cash assistance to renovate houses for those who cannot afford essential shelter as winter approaches
Caritas Australia has committed to provide emergency response in the form of crucial financial support as part of its already established Middle East Regional Appeal.
We stand in solidarity with the people of Beirut and the Lebanese community here in Australia at this time of enormous heartbreak and loss. The Lebanese Catholic community is a valued part of the Caritas Australia network.
For any further information or to donate call 1800 024 413 or DONATE NOW