Emergency in Lebanon reaches crisis point
The Lebanese economy has been in freefall since October 2019, which has seen hyperinflation drastically devalue the Lebanese Lira in what the World Bank says is potentially one of the three worst economic crises the world has seen in the past 150 years.  
Today the population faces a dire humanitarian crisis. People now pay 20 times more for basic goods leaving families unable to pay for housing, education, healthcare, transportation and food. Over one million Syrian and Palestinian refugees living in Lebanon are also at risk. 
The country's largest hospitals have announced their upcoming closure due to fuel oil shortages, which endangers the lives of patients receiving dialysis, chemotherapy, or emergency care, not to mention the COVID-19 patients, and this in the midst of a flare up of the virus.
This all comes as the capital, Beirut, continues to rebuild after the port explosion on 4th of August, 2020. 
Parts of the population are at risk of hunger, something that has not been seen in Lebanon at this scale since World War I, not even during the darkest years of the Lebanese war. 
The time to act is now. Please give generously to support our Lebanese brothers and sisters. 
The funds raised through this appeal will be used to provide immediate and longer-term humanitarian assistance to communities affected by crises in Lebanon, and across the region. Any excess funds will be redistributed to our Middle East Regional Appeal to support ongoing emergency efforts across the region.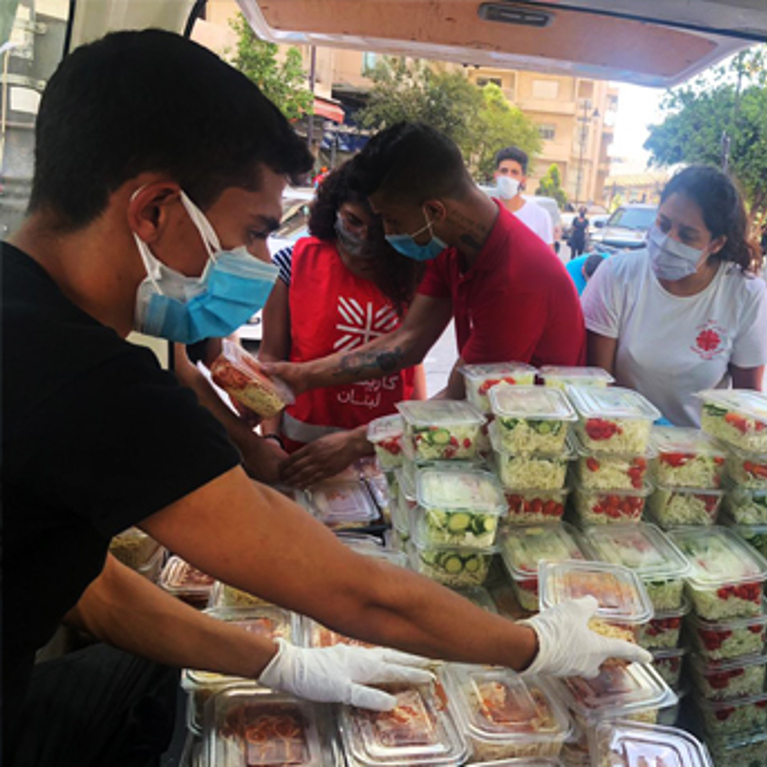 Children and families continue to face severe challenges 
The economic crisis in Lebanon was exacerbated by the explosion in Beirut on August 4, 2020, which killed over 200 people, injured more than 7,500 and left about 300,000 homeless. 
Lebanon is also home to millions of Syrian and Palestinian refugees which further impacts the public services in the country. Millions of Syrians live in informal settlements in Lebanon and Jordan without running water or electricity. With limited access to meaningful employment, many Syrian families struggle to provide enough food or send their children to school, leaving a whole generation at risk. 
Your donation today can provide much-needed support to vulnerable communities.  
We are currently supporting relief efforts in
Lebanon
Alongside emergency aid, we are supporting Caritas Lebanon with programs that support vulnerable Syrian and Lebanese people. 
COVID-19 Crisis
In Lebanon and Jordan, the Caritas network is distributing health educational materials to help prevent the spread of coronavirus. Our partners are providing food, sanitation and hygiene kits (including masks and hand sanitisers) to those most at risk.
When emergencies hit, we support partners on the ground with
Hygiene and sanitation kits
Medication and health services
Emergency shelter and housing repairs
Through our partners on the ground, we are able to support humanitarian response, providing shelter, food, water, sanitation, clothing, blankets and heaters to families in need. We also support programs focusing on long-term needs, offering psychosocial support, health care, educational and social services, and protection to vulnerable refugees. 
Currently, the situation in Lebanon is dire with the impacts of COVID-19 and particularly the economic crisis growing exponentially. For families who were already struggling, life has been made even tougher, and for many, unbearable. 
Your donation will mean that we can continue our vital work so that families across the Middle East can recover from emergencies, overcome the trauma of conflict and rebuild their lives. 
Where does my Donation go?
Funds raised are used for emergency response activities in vulnerable communities around the world. If any funds remain after a crisis, they are kept in the Middle East Regional Appeal fund so that we can respond to ongoing needs and future crises in the region. Funds may be used to help rebuild homes and communities, to re-establish livelihoods, and help communities prepare for future disasters.
Caritas Australia is grateful for the support of the Australian Government through the Australian Humanitarian Partnership (AHP) for our work in the Middle East.