Celebrating our First Australian partnerships this National Reconciliation Week 2021
22 May 21
Today marks the beginning of National Reconciliation Week. This year's theme, 'More than a word. Reconciliation takes action' encourages us to move forward and take action that has an impact in our reconciliation efforts.  
It's a time for all Australians to learn about Aboriginal and Torres Strait Islander history, spirituality, culture and achievements, and to explore how we can contribute to achieving reconciliation in Australia. 
With your help, we support First Australian-designed and led programs that strengthen cultural identity, focusing on intergenerational healing and leadership, with the aim of developing culturally meaningful skills and enterprises. 
Take a look at the First Australian partners we work with, towards creating a more equitable and reconciled Australia: 
Red Dust Healing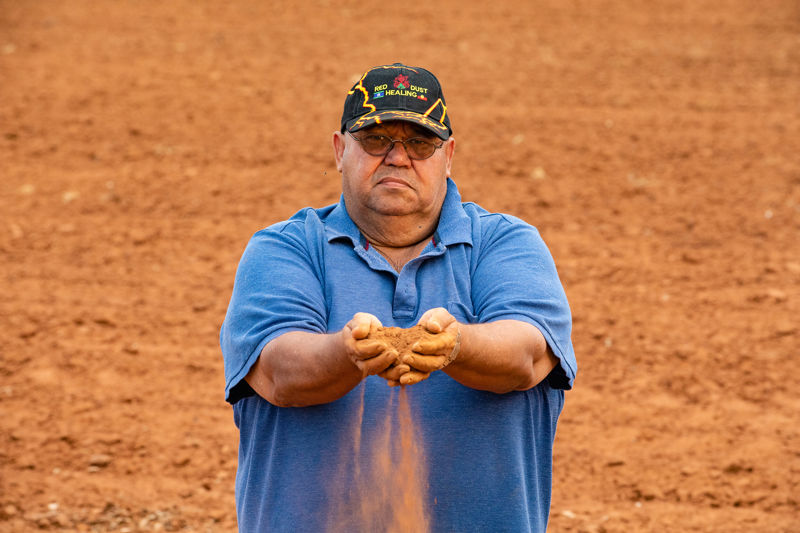 Red Dust Healing is a unique cultural healing and mental health program, written from an Indigenous perspective - aimed at men, women, families and community service providers. Through holistic training workshops, Uncle Tom Powell, the Founder of the program, helps participants to target issues affecting their lives and to pursue personal journeys of growth and wellbeing.  
With your help, Caritas Australia is able to provide support to this award-winning First Australian-led program which has already helped over 17,000 people in Australia and overseas. We have been working with Red Dust Healing since 2013. 
"In recent times, people have been struggling with a lot of anxiety, fear and trauma. Trauma is like the smoke of the bushfire and so you can be affected by smoke inhalation but the real issue is dealing with it. If you don't put out the fire the smoke will reappear."
Red Dust Healing has now developed an online version of its one-day workshop – enabling it to reach more participants into the future. 
Djilpin Arts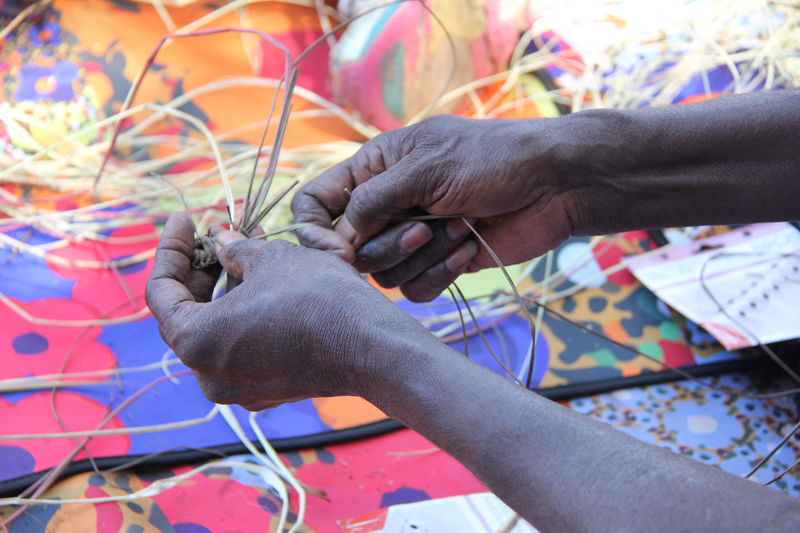 Djilpin Arts is an art centre and social enterprise, designed and led by First Australians in the remote community of Wuglarr (Beswick), near Katherine in the Northern Territory.  
Established by the celebrated actor and musician and beloved community member, the late Balang T. E. Lewis in 2002, it provides employment, training, income, cultural healing and intergenerational connection. It maintains and promotes traditional and contemporary visual and performing arts and provides cultural tours and tourist accommodation, whilst helping the younger generation to connect with culture, nurturing the community's sense of pride.  
During COVID-19, its online business has flourished, providing an income to the community during challenging times. In May, Djilpin Arts is opening a shed in Katherine which will be used as a processing and distribution centre for the community's artworks.  
"It's up to us elders to encourage the young ones to go and find something, not just to sit back and do nothing for them, you know. I really want young people to step out to be what they want to be."
If you'd like to find out more about the work of Djilpin Arts, please visit their website here. 
Kinchela Boys Home Aboriginal Corporation (KBHAC)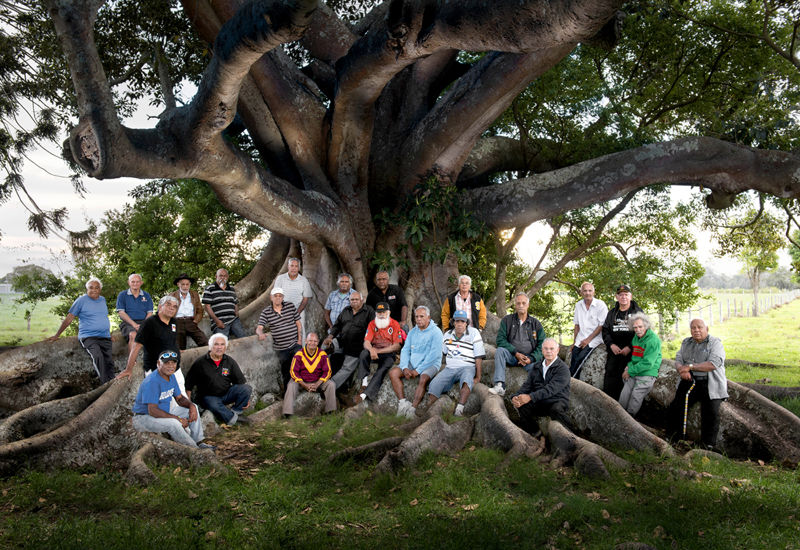 Kinchela Boys Home Aboriginal Corporation (KBHAC) is a not-for-profit organisation that was formed by the survivors of the State-run Kinchela Boys Home in Kempsey, NSW, who were forcibly removed from their families during childhood, now know as the Stolen Generations.
It aims to support these Aboriginal men, their families and communities in developing sustainable healing programs to restore and reconstruct their identity, dignity and integrity. 
KBHAC takes a survivor-led approach to its governance and healing, and is committed to encouraging healthy peer support models that enable greater social inclusion in community life. 
"Joining KBHAC changed my life," Uncle Richard, a Gumbaynggir Dunghutti man and KBH survivor, says. "It lifted me a lot more compared with my artwork. It helps me … especially listening to the other men's stories. We've still got a lot of anger but we're controlling it now, coming together." 
On Sorry Day, Uncle Widdy reflects on what this day means to him: 
"Sorry Day is a hard day for me. Sorry to me means you don't do it again. Sadly, our policies are still failing our children and families. We want this pain to stop with us and to support our descendants and future descendants intergenerational healing. Today is a day to reflect on the legacies of the Doctrine of Discovery which set the foundation for what happened to us Stolen Generations survivors. When we identify this, we start a conversation that will allow for reversing its continuing legacies."
Baabayn Aboriginal Corporation  
Baabayn Aboriginal Corporation was founded by Aboriginal elders from Western Sydney.  The work of Baabayn (which means 'ancestral woman') involves initiatives such as a Family Group gathering, Healing circles, Homework Club, a Mums and Bubs group and a Cultural Garden. They also provide advocacy, counselling services and links to government departments, nurturing knowledge of spirituality and culture and bringing families together for special events. 
Their aim is to connect with the local community and to provide them with support and to help them heal from the past, whilst nurturing their sense of confidence and pride. We have been working in partnership with the Baabayn Aboriginal Corporation since 2019. 
"We've got Sydney's largest Aboriginal population here, so I think people need to know that there's a place that they can come to and they're welcome. I just love this place, I just love the whole concept of what we do here."
Founded in 1992, the National Aboriginal and Torres Strait Islander Catholic Council (NATSICC) is a not-for-profit organisation and the peak advisory body to the Australian Catholic Bishops on issues relating to Aboriginal and Torres Strait Islander Catholics.  
NATSICC promotes and celebrates the cultural identity of First Australians across the nation by living and expressing, in all its endeavours, the spirituality of Aboriginal and Torres Strait Islander Catholics.  
"NATSICC strongly believes that Reconciliation will be achieved through education and learning about one another. The more we know about each other, the more we will realise that we have more similarities than differences. The Council is working hard on providing Cross Cultural Competency courses and enriching the Australian Catholic Church through sharing the gifts of First Nations Peoples."
Aboriginal Carbon Foundation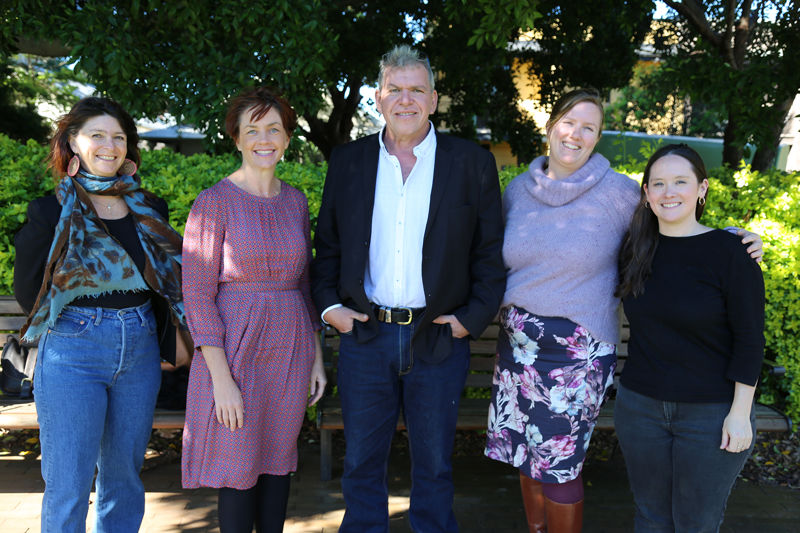 The Aboriginal Carbon Foundation supports carbon farming projects to practice traditional knowledge and land management that also help Indigenous communities to generate an income. 
It aims to build holistic wealth for Traditional Owners and non-Aboriginal carbon farmers, through the ethical trade of carbon credits, by connecting communities which supply carbon credits with organisations seeking to offset their carbon pollution.   
"People are very proud of the work that they're doing in terms of looking after country, but also knowing that it's a viable carbon economy." Rowan Foley, Chief Executive Officer of the Aboriginal Carbon Fund, says. "In practice, this means corporations spending money that will benefit traditional owners and build sustainable carbon economies."  
The Aboriginal Carbon Foundation also helps non-Indigenous businesses to fulfill the goals in their Reconciliation Action Plans, a strategic document that guides an organisation's contribution to reconciliation, both internally and in the communities in which it operates.  
"A lot of organisations actually buy the carbon credits from us - a predominantly Aboriginal-staffed and governed not-for-profit organisation that trades carbon credits on behalf of Traditional Owners - as part of their Reconciliation Action Plan. This means they're able to meet those goals in their RAPs, in terms of looking after country, encouraging Indigenous employment, and making sure there are viable economies on Aboriginal lands."
Jesuit Social Services
Jesuit Social Services is a social change organisation, working with local communities to build a just society where all people can live to their full potential.  
In the Northern Territory, Jesuit Social Services works alongside Aboriginal people and organisations, to respond to locally-identified needs.  
Jesuit Social Services supports the work of Serena Dalton, a local Palmerston Elder and founder of Grassroots Action Palmerston. Serena provides culturally-grounded mentoring support to young people who have been in contact with the youth justice system. She has recently developed the Grassroots Youth Engagement program – an Aboriginal-led initiative that aims to build the confidence and leadership of at-risk Indigenous young people in Palmerston.   
The program focuses on supporting young people with access to employment, life skills and culture. Serena talks about the importance of the program in reaching "the kids at risk, the kids no one engaged with, and didn't think they could ever engage with". An initial pilot has proven successful, with three young people accessing longer term employment opportunities through the program, supported by mentoring and wrap-around support.  
Caritas Australia has worked in partnership with Jesuit Social Services since 2017 and will continue to support Serena's work through the youth program, ensuring that those who are falling through the cracks of mainstream services are supported to fulfil their potential.