Schools and parishes across Australia raise funds for Project Compassion
16 Mar 23
Since the launch of Project Compassion in February, thousands of Australian schools, parishes and supporters have come together to raise funds for people living in some of the most vulnerable communities worldwide.
 The theme of Project Compassion is 'For All Future Generations', a reminder that the good we do today extends far beyond the present and impacts the lives of vulnerable communities for generations to come.
See how different communities across Australia have celebrated Project Compassion so far.
Perth, Western Australia
In Perth, over 68 primary and secondary schools from four dioceses joined our Project Compassion launch, representing approximately 2,000 students from Years 6-12.
Servite College and St Kieran Catholic Primary School served as phenomenal co-host schools, providing the IT know-how to facilitate an online webinar with Caritas Australia CEO Kirsty Robertson, who shared her own journey working in Nepal and other countries. They also shared the story of Laxmi, a 16-year-old girl from Nepal who wants to become a civil engineer.
The highly engaging webinar produced many questions from the schools during the Q&A, a great response from curious, young minds
Townsville & Brisbane, Queensland
On the other side of the country, Townsville Diocese held its Project Compassion in Ingham, approximately 130km north of Townsville. Students from the Ingham district attended, as well as more than 50 people who travelled from Townsville to join in the launch.
The season of Lent was in full swing at the Brisbane Archdiocese launch for Project Compassion.
With over 76 schools attending, it was a full house at St Stephen's Cathedral with many engaged students who enjoyed pancake races, chalk art (about faith, social justice and ecological justice) and a formation session with Caritas Australia Earthcare Coordinator Alice Carwardine.
Hobart & Launceston, Tasmania
Caritas Australia Advancement Director, Richard Landels, travelled south to Tasmania to launch Project Compassion in both Hobart and Launceston.
Starting in Hobart at St Mary's Cathedral, Fr Leonard (the Archdiocese Administrator) and Fr Paschal provided a warm and generous welcome, both great champions for Caritas Australia. Posters were put up in the Cathedral and the parishioners collected Project Compassion boxes on the way out.
The Homily focused on Project Compassion, emphasising what we can do for others, not just our friends but everyone.
Traralagon, Victoria
Two-hours east of Melbourne, a wonderful launch event for Project Compassion was hosted in Traralgon in Victoria.
Schools travelled up to two hours from around the Sale Diocese to listen to Bishop Greg Bennet, a passionate advocate of Caritas Australia, call on the students to lead change and be the difference for future generations.
Giving Back this Project Compassion
With Project Compassion officially launched, fundraising is another important way to unite communities. We know that fundraising can be daunting, but we believe that it should be FUN!
It's also an opportunity to raise awareness about important issues and a chance for the community to take part in a social justice action. A better future for all generations starts with your support.
Bring your friends, family, school community or workplace together to participate in a Project Compassion fundraising event! Together you will raise awareness and funds for the thousands of children, women and men worldwide who have to go to extraordinary lengths each day to access basic necessities like food, water, education or health care.
You and your community can get involved and inspire others in many ways. Be as creative as possible and take a look below at some fun ideas!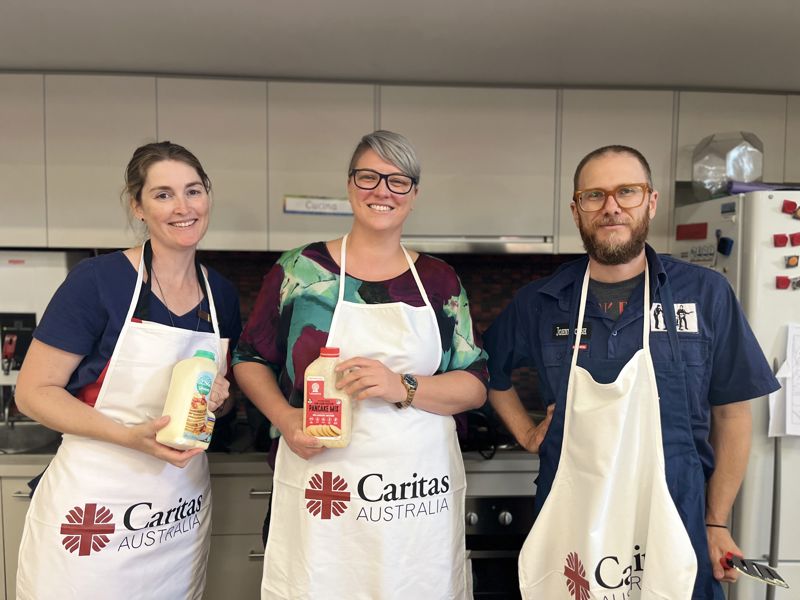 Cooking for a Cause
Pancakes are an integral part of Shrove Tuesday, and the tradition of pancake flips brings communities together for the Lenten season. Project Compassion is never complete without pancakes. It's the most fun (and yummiest) way to kick off your fundraising!
Host a Water Challenge
Worldwide, 1 in 9 people don't have access to safe and clean drinking water – that's 780 million people. Most of the world's population spends up to 3 hours a day to get the water they need to survive.
Take inspiration from Mount St Benedict College and host a water challenge, helping raise vital funds for the many around the world that don't have taps in their houses or even in their villages.
If you need more fundraising ideas, check out our fundraising booklet and to get involved, register here.
Together, we can truly make a difference For All Future Generations!