45,000 homeless after fire in Rohingya refugee camp, Cox's Bazar
25 Mar 21
On March 22, a massive fire swept through the Rohingya refugee camp in Cox's Bazar, Bangladesh, leaving approximately 45,000 people homeless.  
At least fifteen people were killed and more than 500 were injured, and 400 people are still unaccounted for. Our partner, Caritas Bangladesh, is providing ongoing support to assess the scope and impact of the disaster.  
The fire also caused extensive damage to key essential facilities including hospitals, health centres, learning centres and women-friendly spaces. 
It took hours to put the fires out, as aid workers and emergency services worked together to fight the flames and get the refugees to safety.  
This is the third blaze to hit the camp in four days, as fires are unfortunately common in the overcrowded camp, where nearly 1 million Rohingya refugees live in cramped conditions after fleeing the 2017 conflict in Myanmar's Rakhine state. However, the scale and intensity of the fires of March 22 are unprecedented, and at least 60 per cent of the affected areas in the camps were destroyed or seriously damaged.  
Our partner on the ground, Caritas Bangladesh, is working with other aid organisations and emergency services to assess damage and provide immediate support, including distributing emergency shelter kits. As the response continues, Caritas Bangladesh will focus on providing non-food items and shelter support to those affected by the fire.  
One of the key concerns is the loss of essential personal documentation and records in the fires. Additionally, vulnerable Rohingya now face an increased risk of theft, harassment and exploitation.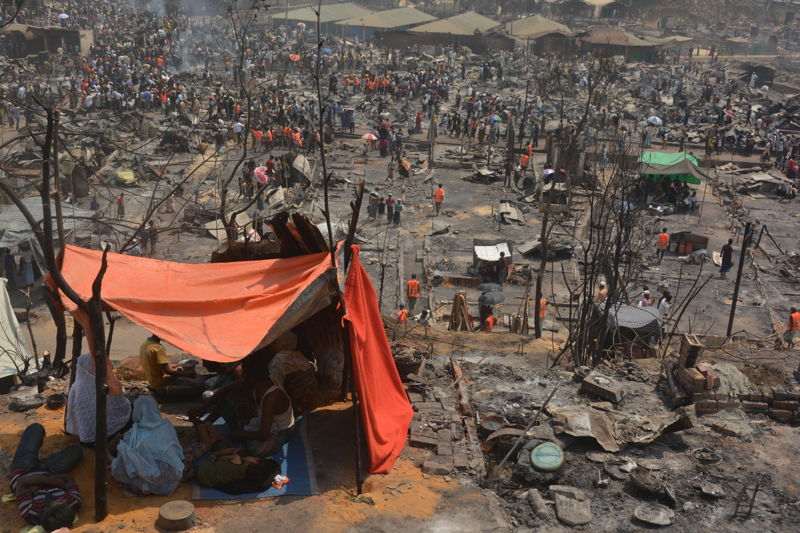 "This fire has had a huge impact on a group of people who have already experienced conflict and displacement, as well as several years of living in cramped conditions in the camps," said Bernice Sarpong, Caritas Australia's Humanitarian Program Coordinator for Asia.  
"A large number of shelters and key infrastructure need to be rebuilt, and in the meantime, this means that more people will go without a safe place to live or important services." 
"It's vital that we work together not just with other aid organisations, but also the Rohingya community to rebuild and recover as quickly as possible. Some members of the Rohingya community have already been key to the relief effort, helping people to safety, supporting the fire response and aid organisations on the ground."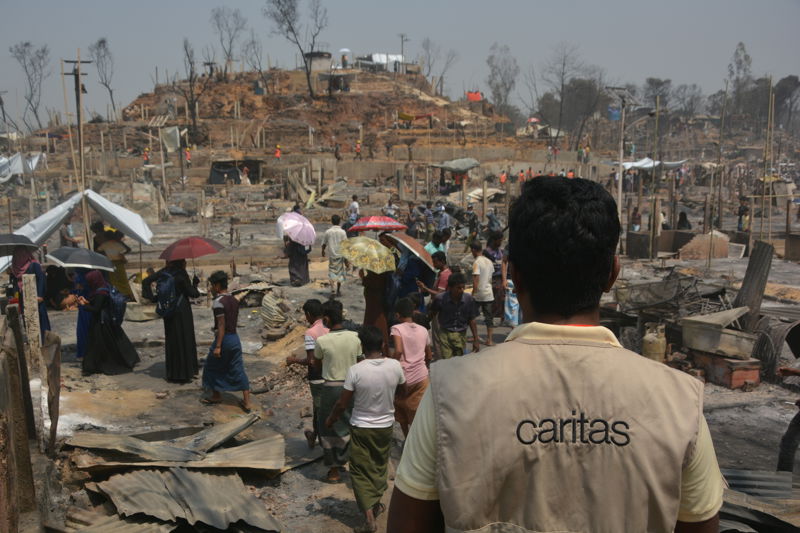 COVID-19 in Cox's Bazar 
Our staff and partners are concerned about the long-term impacts of the fires, which destroyed health centres and other key infrastructure.  
The Rohingya community already face significant challenges in preventing the spread of COVID-19 in the cramped camps, and with another 45,000 people now homeless as a result of the fires, the overcrowding will only get worse.  
When a camp is overcrowded, it becomes more difficult to bring in preventative measures like physical distancing or hand washing.  
If several generations of one family are sharing congested and basic shelters with only one or two rooms, it is almost impossible to separate the family members who are potentially infected or more at risk. This places the whole household at increased risk.  
For most Rohingya families living in Cox's Bazar, it's hard to gain regular access to clean water, which means that keeping themselves and their loved ones healthy and safe from the virus is an ongoing challenge.  
Despite these significant challenges, many Rohingya have been fundamental in helping themselves and their communities prepare for the pandemic.  
Some people in the camps, such as Halima, featured in our Project Compassion campaign, participated in sanitation and hygiene training and took on the role of community trainer to keep their family and community safe during the pandemic. Read more about Halima.
As community trainer, Halima was responsible for inspecting and organising the cleaning of washrooms, wells and toilets in her block. She earns a small income from her training role, as well as maintaining the cleanliness of the camp for her neighbours.  
Our local partner, Caritas Bangladesh, has confirmed that Jamila and Halima from Project Compassion 2021 are safe after the massive fires in Cox's Bazar on March 22.

 
Neither Jamila nor Halima were affected by the recent fires, and all of the Caritas Bangladesh operation sites in the camps are safe. 
As the camp recovers from the fires and continues to face COVID-19, there is another threat looming. Bangladesh's monsoon season runs from June to October, and is when cyclones and heavy rains often lead to extreme flooding and damage in the camps where most people live in basic shelters with little protection against floodwaters.  
Please support people living in the camps. To make a difference to vulnerable communities in Asia, please donate to our Asia Emergency Appeal.