Environmental changes predicted to displace millions by 2050
05 Oct 21
More than 216 million people could become internally displaced by 2050 unless the world acts now, according to the World Bank's latest Groundswell report. This landmark report published in September details, for the first time, a global picture of the potential scale of internal climate migration across six regions.
It says that without a concerted global effort to reduce global emissions and support sustainable development, Sub-Saharan Africa could have 86 million internal climate migrants by 2050; East Asia and the Pacific, 49 million; South Asia, 40 million; North Africa, 19 million; Latin America, 17 million; and Eastern Europe and Central Asia, 5 million.
The World Bank says that several slow-onset impacts of rising temperatures will drive this internal migration, including water scarcity, lower crop productivity and rising sea levels, as well as increased natural disasters and a loss of land.
"The report is a stark reminder of the human toll of climate change, particularly on the world's poorest countries — those who are contributing the least to its causes. It also clearly lays out a path for countries to address some of the key factors that are causing climate-driven migration."
Environmental changes are set to hit the most vulnerable communities the hardest, so it is vital that countries make a concerted effort now, to minimise and reverse the damage. The report found that decisive collective action could help to reduce the number of people forced to migrate within their own countries by up to 80 per cent.
"If countries start now to reduce greenhouse gases, close development gaps, restore vital ecosystems, and help people adapt, internal climate migration could be reduced by up to 80 percent—to 44 million people by 2050," says Voegele.
With your support, we are working alongside our local partners to support communities which are particularly vulnerable to the impacts of a changing environment. In the Philippines, local communities are supported through the Integrated Community Development Program, run by the Socio Pastoral Action Center Foundation Inc. (SPACFI). In the coastal areas of the Philippines, communities are frequently devastated by extreme weather events, including typhoons and tropical cyclones. Participants in the Integrated Community Development Program learn about ecology and environmental conservation, and undertake training in disaster risk reduction.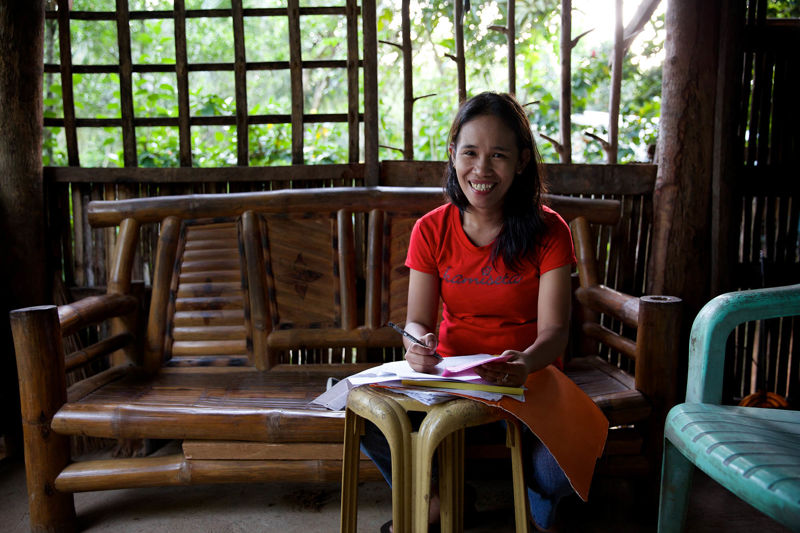 Aloma, a participant who completed this program, gained the knowledge that she and her community could develop resilience against natural disasters through caring for the land.
"The greatest change in my life was to realise that the environment is very important. We grew up cutting down all the trees around us, including the mangroves … and using [them] for firewood. Now, instead, we are planting the mangroves for our own protection. It is important to protect the environment. We are in a coastal area, and mangroves will protect us from a tsunami or flooding."
Caritas Oceania recently hosted an online talanoa event where speakers shared stories about environmental changes in Oceania. Kositatino Tikomaibolatagane, the Social, Ecological and Justice Programme Coordinator at Caritas Fiji, spoke about intensified levels of coastal erosion in Fiji and the disastrous effect this has had on local communities.
"Coastal erosion has been affecting many communities in the Pacific, especially here in Fiji. More than three communities have been relocated elsewhere and 40 more communities are in the pipeline for the government plan to relocate them due to the problem of coastal erosion which resulted from sea level rise. A road which was accessible to vehicles up till last year is not accessible anymore because erosion has destroyed it."
Caritas Fiji is working alongside vulnerable communities in Fiji to raise awareness about these environmental changes, and is supporting them to develop resilience against the impacts of coastal erosion.
Communities in Zimababwe, who are subject to persistent drought and erratic weather patterns, are also being supported through our partner Caritas Gweru. Thanks to the generosity of our supporters, Caritas was able to help community members to build a new water borehole to ensure reliable access to clean water throughout the year. Families no longer need to rely on river water and they have enough water to maintain their various livestock and crops.
These programs help to mitigate the oftentimes disastrous side effects of our changing environment, but decisive global action is required, if we are to truly tackle its root causes. If you would like to find out more about climate impacts and environmental justice, please visit our Climate Justice page.